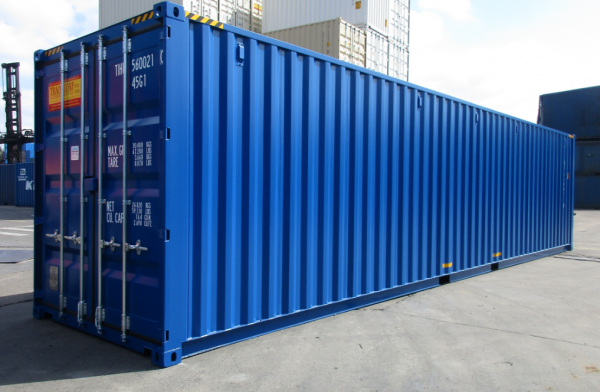 Shipping containers come in a vast array of sizes. Shipping container sizes are normally referred to by the length measurement. For example, when someone says a 20 foot container, in most cases, that person suggesting the general purpose (standard) container with an exterior dimension of 20 feet long, 8 feet wide, and 8.6 feet tall.
When choosing a container by the outside measurement, you should also pay attention to the inner dimension. Due to thick walls, the interior of a twenty foot container may span nineteen feet and four inches long, seven feet and eight inches wide, and seven feet and ten inches tall.
Besides exterior and interior measurements, the door size is also important to take into account. Throughout opening on the sidewall of a container would make loading and unloading process far easier. In addition to that, accessing goods at the container front would be faster since you can access it from the side instead of the container end.
Next, how much weight a container may carry, is also another determining factor. You have to be aware of the fact that despite your container has a bigger area because it is a high cube container, doesn't mean it can sustain a heavier load. 
That's because the size and shape of items you can fit will depend on inner length, width, and height while the maximum cargo weight will determine by the number labeled as max gross on the container. Furthermore, the number referred to under tare will tell the weight of the container. Ultimately, the accumulation of your container and cargo weight will be a determinant factor in the shipping cost.
Although containers are available from 8' to 45' long, the most common sizes are 20 and 40 feet because they are useful in many ways. Containers in those two sizes allow quick loading and unloading process for container ship and airplane workers as it follows a customary configuration. 
Moreover, the size of your shipping container will also affect its portability. If your shipping or storage needs are on a smaller scale, we recommend you opt for mini containers. For one thing, they can be shipped by truck straight to the designated place.
Also, if you want three different containers, it can be shipped all at once since specifically designed them for efficient shipping. Ordering bigger containers for small storage problems will unnecessarily complicate you a little more because, in some cases, you will have to go to a shipping yard or other venue to pick them up.
Lastly, we have an interesting fact about container size. It actually still matters even after you're done using it. As an illustration, when you have a shipping container that you no longer want to use due to whatever reasons, some people are willing to offer you money for that used container.
The trend of building something out of a container is gaining momentum. Thus, a bigger container is much preferred by people because it will give more area and make it feel spacious for an establishment. 
That is to say, a used 40 high cube container is a great option for container homes for one or two people. Furthermore, it is also great for other buildings like offices or café. Meanwhile, smaller used containers can be used for storage and are great because they do not take up as much space.
With so many kinds of shipping container sizes, you should have no problem finding one to meet your needs.
Article source: https://article-realm.com/article/Autos/Trucks-SUVS/7415-Basics-For-Understanding-Shipping-Container-Sizes.html
Comments
No comments have been left here yet. Be the first who will do it.