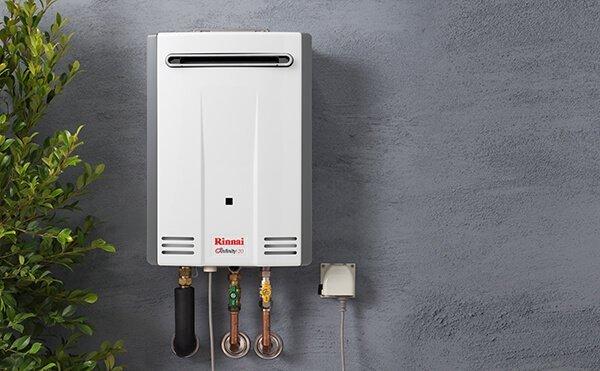 There are two types of water heater systems classified according to their mode of heating – Storage heaters and Instant heaters. 
In storage heaters, water is pre-heated and stored in insulated cylinders for later use. Coldwater is drawn from the bottom piping and hot water from the top, this way you can stabilize the temperature of the water by mixing the cold water with the heated water. The hot water is heated via a burner which turns on when you turn the knob for the hot water. These storage heaters come with a gas energy rating which is usually between 4 and 5.3 stars. It is important to note that storage heaters lose heat energy through the walls due to conduction. The larger the tank, the more the rate of heat loss. 
On the other hand, gas instantaneous hot water systems are much more efficient in terms of conserving heat compared to storage systems. Instant Hot water systems have a higher Gas Energy Rating between 5 and 6 stars, with the best heater being rated at 7. Then again, these heater systems may require a separate gas line to be set up due to their higher rate of gas consumption. 
If you plan on buying a new Gas Hot Water system, you will need to compare its energy efficiency. Based on the MEPS (Minimum Energy Performance Standards) gas water heaters with only 4-star ratings or above are only applicable for sale. If you are opting for an on-demand gas heater system then do make sure to check energy consumption stated in the middle of the energy rating label. This number tells you the annual gas consumption if your average consumption is 200 litres of hot water a day. 
You can expect an instantaneous gas heating system with a similar rating to a storage heater system, to have a much lower energy consumption than the latter. This difference in energy efficiency is because there is a loss of heat in gas storage heaters. 
In the years to come, gas consumption is most likely to become more taxing in terms of running costs. This is why it would be wiser to replace traditional gas hot water systems with high-efficiency gas water heaters. 
Many users are considering installing gas hot water systems that have timers included to increase gas efficiency. Tankless water heaters take up less space and provide the right amount of heated water whenever needed. They are even considered more efficient than electric heaters when it comes to on-demand heating. To know more about gas hot water Adelaide, visit our site Aquatekplumbers.com.au
Article source: https://article-realm.com/article/Business/Customer-Service/17440-Gas-hot-water-systems-A-cost-effective-and-energy-efficient-supply.html
Comments
No comments have been left here yet. Be the first who will do it.