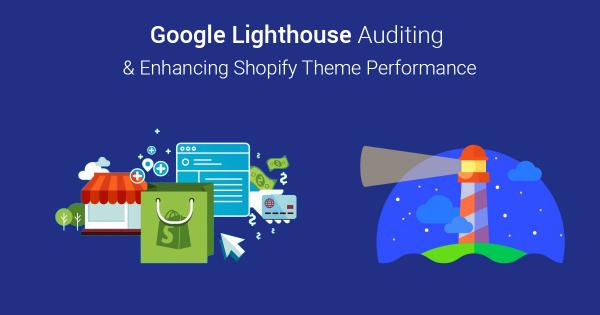 Whether my chosen Shopify theme is fast or not? Is it loading within an average acceptable time span or not?
Such questions keep coming in a merchant's mind, every now and then. Because a theme is largely responsible for your website's overall performance. To help these issues, many online tools (both free and premium) are available.
In this article, I shall discuss Google's product 'Lighthouse' that is specifically built to ease merchants with their performance related issues. Not only merchants, but it is also becoming a favorite tool amongst developers and other Shopify development company  too.
To define, 'Lighthouse' is an open-source and automated tool by Google that helps you to audit and enhance various aspects of your website. You can easily improve quality and utilize the best practices to enhance website or web apps.
Unlike other performance enhancer tools, Lighthouse provides you a solution that is quite relatable to every Shopify website in general. In other words, it offers you an easy way to get your work done in terms of Shopify store's performance.
You can also audit PWAs with Lighthouse. Easily accessible to run from Chrome Dev Tools. You simply need to
Download Lighthouse Extension on Chrome → Put your URL (that needs to be audited), a series of audits are run against its web pages, and a report is generated based on its performance.
Or, you can also run Lighthouse from the command line where it is present as a Node Module. Simply download Node (from nodejs.org) and install the module on the command line.
In what ways you can enhance Shopify Theme with Lighthouse?
With the introduction of Google's Lighthouse, many Shopify theme development agency are utilizing it as a reliable online tool to keep a performance check.
Let's see how?
PAGE LOAD ANALYSIS
When hitting the start button, your Shopify theme will be tested for page load times on various networks (like 3G/4G mobile connections). It calculates the time that your theme takes to load primary content completely.
SCOPE OF IMPROVEMENT
This tool will also help you with different opportunities for Theme's performance improvement. Such improvements are inclusive of fixing the sizes/resolution of images and optimizing or compressing JavaScripts.
Additionally, you will find out if elements are using different attributes like meta tags properly or not. If merchants are performing this test on their own, they can easily pass this information to the Shopify developers in a report of implementation.
By referring to this compiled list of recommendations, developers can easily regenerate Shopify themes and avoid performance relates pits. It is always recommended to use this tool frequently whenever testing the front-end of your Shopify store.
SUMMARY
In summary, I would like to state that auditing and enhancing Shopify theme's performance is crucial for your overall eCommerce success. If it doesn't load fast or holds other performance related drawbacks, your end users will definitely abandon you.
And, you may not be knowing the reason behind it if you don't test it on a routine basis. Google's Lighthouse is definitely an easy way out to stay profitable and competitive while delivering a consistently enhanced performance.
For any queries, write back to me. Happy to assist you.
Article source: https://article-realm.com/article/Computers-and-Technology/Software/2349-Google-Lighthouse-Auditing-and-Enhancing-Shopify-Theme-Performance.html
Comments
No comments have been left here yet. Be the first who will do it.