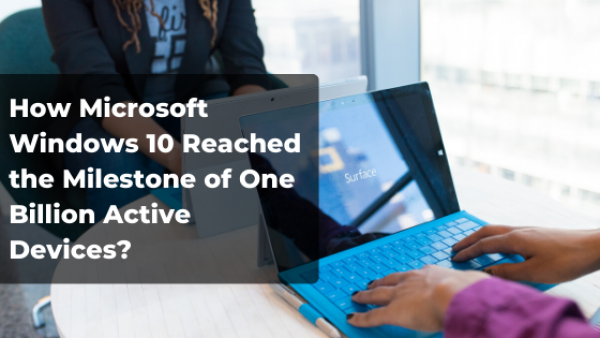 Microsoft Windows 10 finally hits the mark of one billion active devices in 2020. When the Windows 10 was launched way back in 2015, the operating system giant claimed to reach the mark of one billion devices in 2018. But the two years down the line, they finally hit the milestone in 2020.
They announced the news on March 16, 2020, on Microsoft blog. Microsoft Windows 10 is indeed one of the highly used operating systems from Microsoft. And by reaching this mark, they became the global leader. In this article we have discussed, a few interesting facts & linked details of this achievement, their journey from Windows 1.0 to Windows 10, and what to expect from them in the upcoming time?
A few interesting facts & linked details of this achievement
It took a lot longer than what they had expected since it's launch in 2015. And after the wait of 4 years and 8 months to reach the milestone, they finally achieved it. According to Yusuf Mehdi, the Corporate Vice President of Modern Life, Search & Devices at Microsoft "One in every seven people on the planet are planning, creating, ideating, executing, moving, shaking and doing great things with Windows 10."
Windows 10 is being used across 200 countries around the world. The list of one billion active devices includes devices such as Xbox one devices, HoloLens devices, Two in one devices, MR (Mixed Reality) devices, and PCs (all of them are Windows-powered devices). The 80,000 models of laptops with all different configurations from over 1000 OEMs are powered by the Windows 10. Microsoft stopped their support for all their Windows 7 devices, which have also have helped them achieve the goal of one billion devices.
Their journey from Windows 1.0 to Windows 10
The first official version of Windows 1 arrived in 1985. And before their launch in 1985, they ware already known with their MS-DOS in the market. And with the several new updates, new version launches, and numerous technological advancements, here we are today. Their journey was still not that easy. The influence of Mac and Linux has also affected their growth. But it also does not stop them from their journey. They continued to evolve and innovate.
With several functionalities and diverse app experiences, they have determined the definition of the computer for millions of users around the world. They are also bringing the Windows to the cloud through the Azure and virtual machines, connecting to every platform and ecosystem (Mac, iOS, and Chromebooks.) Making it the most accessible operating system in the world. With such programs, user trust, several user retention policies, and flexibility provided by the OS, it became the highly used operating system in the world.
What to expect from Microsoft in the future?
The operating system giant is already working hard towards their future plans. In the last October, they also unveiled Windows 10X. Which is designed especially for the dual-screen devices. And they have also unveiled their new dual-screen PC called Surface Neo. They also promised the dual-screen PCs from their partners Asus, Lenovo, Dell, and HP.
Microsoft also made clear that they are just not limited to Windows 10 PCS. They are working towards diversifying their Windows ecosystem by investing in devices such as Windows IoT, Windows 10 team edition for the Surface hub, Windows servers, Windows mixed reality HoloLens, Windows 10 S mode, Windows 10X, and more. The broad ecosystem and device ecosystem will help them serve their customers even better.
The wrap-up
Microsoft Windows 10 is indeed the best operating system in the world. Out of 7.8 billion population of the world, 1 billion people are already using it. Still, there is a huge scope for the tech giant to reach to the masses. Here we have explained their journey, how they become the highly used operating system in the world, what are their upcoming plans and goals. We hope that you found this article informative and may help you know some coolest facts related to Microsoft and their incredible journey. Thanks for reading this article till the end. And we hope to see you around in our future posts too.
About us
The Software Codes is a leading digital distributor and sales partner of software products. We have a huge portfolio of software products including Microsoft Windows operating systems, MS office packages, MS sever standard packages, Antiviruses from all the leading brands, and several more coolest products.
We assure the best prices and genuinity of the products. We condemn all the activities related to piracy and duplicity. For the ultimate buying experience from us, we give 24/7 customer support, instant product delivery, and money-back guarantee too. To get the awesome software products and coolest deals, visit the official website of Software-Codes NOW!!
Article source: https://article-realm.com/article/Computers-and-Technology/Software/6154-How-Microsoft-Windows-10-Reached-the-Milestone-of-1-Billion-Active-Devices.html
Comments
No comments have been left here yet. Be the first who will do it.