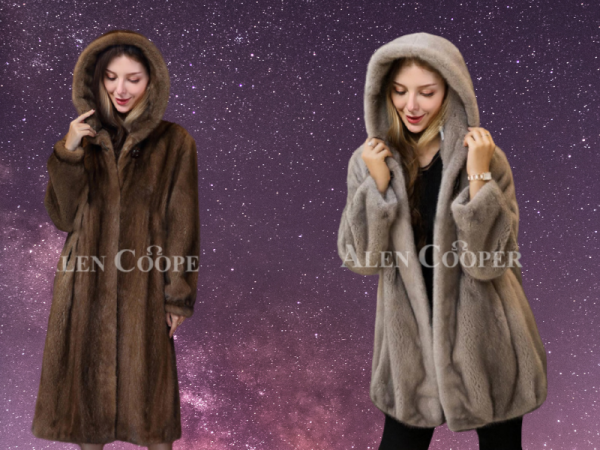 Since ages, Furs are used as natural insulators for mankind and was never out of fashion. There are various types of fur like, Mink Fur, Fox Fur, Sable Fur, Racoon Fur, Rabbit Fur etc. When you wish to wear one of the finest fur outerwear, all you need is one of the Genuine Mink Fur Coats. This article will give us information's about Mink Fur Coats and Mink Coats for Women.
Mink fur coats:
Mink pelts are of various types and the price differs with the quality. The best quality certified furs are from, the NAFA in Canada, the SAGA in Finland, and the COPENHAGEN FUR in Denmark. When you see one of these labels on your coat, then you know that it has been made with the best quality raw material. You can identify the quality of a mink pelt from the touch and look of it. Higher quality pelts are softer, shinier, and their colours are more radiant. Mink is the highest-selling fur around the world, due to its lightweight, soft texture, unique lush, and durability.
Mink coats are warm and a natural protector, which makes them ideal for the severe winters were temperature drops under freezing point. The warmth provided by a mink coat far exceeds that of a regular winter wear. Mink is known as a very precious fur, its durable, light weighted and it has a super sleek appearance.
If you are looking for Genuine Mink pelts, if possible, then check the inner portion of the product, that's inside the lining, the leather will have a napped surface which are often sewn together in strips, sections or pieces like a patchwork, that also has a smooth texture. A Coat is made of male or female pelts doesn't matter because the product is always recognized for its outstanding quality and beauty which is judged by every individual.
How will you know whether a coat is for men or women? Here is your answer, the look and shape itself will tell you about the attire, Women's fur coats are more fitted than of men's. Buttons are placed at the left side. Sometimes the gender is mentioned on the label for owner's identification. Mink Fur Coats for Women weighs lighter most of the time, compared to men. Females doesn't like to wear any outfit that weighs them down with its heaviness. So with lightweights and sleek designs they enjoy the same warmth provided by the fur products. Thereis always more colour options for women than men. Still, if you are confused to differentiate between genders than take the help of someone who has knowledge of fur products.
Moreover, for an upcoming event you won't have to think much regarding your dressing, with various colours, shapes, styles, lengths and designs, you will definitely get one of your choice to match-up with the occasion. You can style in both the ways, formal and casual. There are lots of people, including celebrities, who wear it with denim and give a more casual look, but you can easily combine your coat with a proper dress, a skirt, or a trouser to give a formal look as well.
Fur Coats not only represents your exception fashion standards but also describes your culture and status. Whether you are in a party, social gatherings or you are out all alone, Mink Fur Coat will make sure to complete your look with its wide range, available all over the world.
Article source: https://article-realm.com/article/Fashion/Clothing/12752-Luxurious-Mink-Fur-Coats-for-Elegant-Women.html
Comments
No comments have been left here yet. Be the first who will do it.