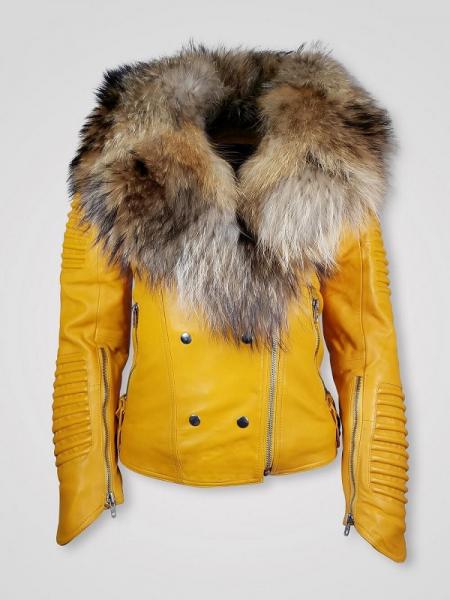 The bomber jacket is timeless outerwear that every woman should try at least for once. This is a classic outerwear option and can accompany a woman on many occasions as it is both fashionable and versatile. So, if you are in search of something that can keep you warm during the winter season as well as a sensational style statement to complete the casual outfits, then women's leather bomber is the ultimate answer.
What is a bomber jacket?
During the First World War time, the leather bomber jacket got introduced into the genre. Generally, the pilots of the war flights required most this type of jacket. But this style was only limited to the men. But it is no more men's game only. Over time, regular civilians adopted this style in their clothing regime. And women too started to wear this type of jackets. After the mid-1900s, leather jackets and coats became popular among the women on a great level. Previously it was designed with ribbed cuffs and hem, defined neckline and a front zipper closure. But in these modern days, bomber jackets have seen many variations. Nowadays, this timeless classic outerwear is available in a wide range of styles, colors, and fits.
Know the best type of bomber jacket
People are wearing bomber jackets in many different and fantastic ways. But before starting styling your outfit, you need to pick the best one for you.
·         Burgundy bomber jacket is a great option if you want to add a touch of attitude to the outfit. Between the 60s to 80s, this bomber jacket got viral. And still today, women are just gaga about it. In order to look classier with a bomber jacket, you can partnering it with a black t-shirt and black jeans. It is best to enable an edgy look to enjoy the weekend party and trip.
·         Olive bomber jackets are mostly adored by the women. The color is unique and easily helps one to stand out of the crowd. If you want to achieve a stylish as well as a casual look then it is the perfect option for you. You can pair it with a basic pant such as jeans or chinos.
·         Black bomber jacket is another hot winter outerwear option. Black colored jacket is a classic choice. It is versatile and suits almost all the outfits. It can craft an athleisure look instantly. Any kind of basic pant can be a great pair with this jacket.
·         White bomber jacket belongs to the rare group of outerwear. Getting this type of jacket is a hard job. That's because most of the people are in search of this type of jacket and stock gets finished within two to three days. You can part it with light pieces such as tan chinos, soft blue jeans, and white sneakers.
These four types are always in high demand. And easily add a touch of class to your personality. The leather bomber jacket is timeless and always adds sensations to the outfits. 
Article source: https://article-realm.com/article/Fashion/Clothing/1301-4-must-try-leather-jackets-in-this-season.html
Comments
No comments have been left here yet. Be the first who will do it.