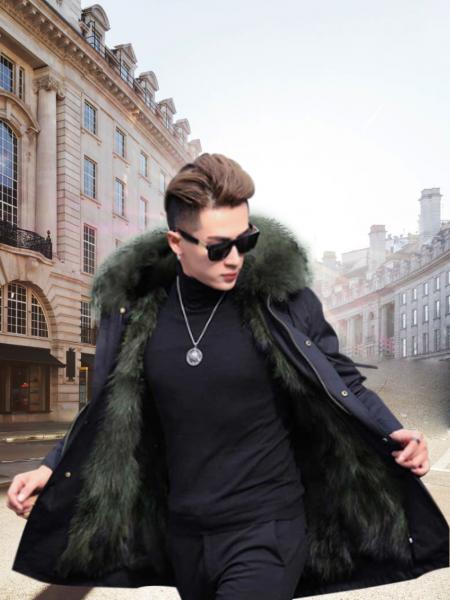 This article aims to break-some the myth about men's parka with a fur hood and shares how much important it is to having a real fur hooded parka for people who live in too cold winter countries.
People often say that fur hoods come with parka just as a money extracting feature tailored by the manufacturer. But the real scenario is completely different. Fur-trimmed hoods are not the excuse of the outerwear brands to make extra money from you. The fur trim around the hood is there to prevent airflow and create turbulently and it effectively protects the face from frostbite. Winter seems romantic until your face and neck experience harsh frostbite and frizzing cold air. A lot of people already know this fact yet they are not willing to accept.
Today this article aims to dig a bit further and presenting research explaining how fur hoods are better than fur-less hoods.
According to research published in Climate Research, in Northern Siberia, people mainly wore reindeer skin parkas with a hood attached to the outermost parka. Those hoods were trimmed with the wolverines, arctic fox, and wolves' fur. Researchers there calculated what type of hood prevents cold and transfers warmth effectively in a subsonic wind tunnel. They have also tested all coats with no hood, a military hood, a fabric hood, and a sunburst hood. They have come to a conclusion and that is fur-trimmed hoods are more comfortable, protective, and warmer. And this process is in practice from a very earlier time. Modern designers have given a new and fashionable look so that all the people out there can have a new style statement to get the winter spotlight.
There are various kinds of women's and men's parka with fur hood available in the market in various sizes. Along with fur hood and lining, there is another thing to concentrate on. And that is the quality of the outer shell. A high-quality outer shell can save the wearer from wet snow and rain effectively. Generally, most of the parkas come with proper outer shell in order to prevent water from entering inside. Only the high-quality polyester cannot give you the required warmth and comfort. There is soft and smooth fur lining inside in order to create an amazing turbulent and supreme breathability. Breathability is required in order to maintain the freshness. You should not feel suffocated inside a parka and that's why you are suggested to pick the best type according to your budget and needs.
Buying the best parka jacket for men or women is really a tough job today. It sounds funny but too much availability makes people confused when they try to pick the best one. But there is a better way always. Today to grab the best things, research is required at the first move. A well-informed buyer is a smart buyer and always buys the best things at the right price. You can follow the ruling trend or you can craft your own style statement easily. Winter seems beautiful only when you feel warm and cozy and that's why you need to find the best parka at the first move.
Article source: https://article-realm.com/article/Fashion/Clothing/5635-Know-the-importance-of-fur-trimmed-hood-in-your-winter-parka.html
Comments
No comments have been left here yet. Be the first who will do it.