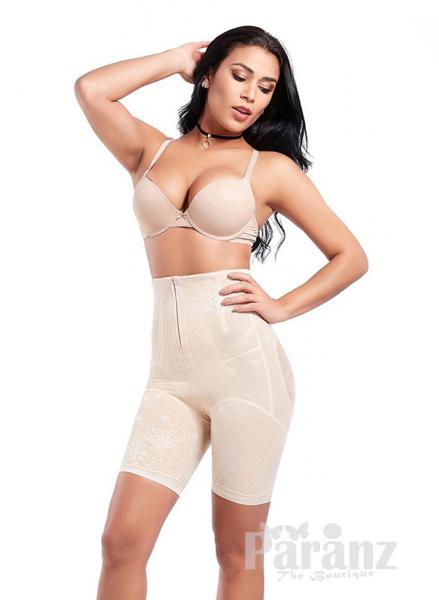 Playing dress up games in real world is as popular as captivating. But – as the trend shows – foundation garments or body-shaper for dresses is one of the most overlooked items in the world of fashion. Girls spend hundreds of dollars on buying a dress without any hesitation but don't care to invest a negligible amount on a slimming body suit or a proper long line brassiere.
Importance of foundation garments
Everyone in this world is not blessed with an hourglass figure that lacks even an ounce of extra flab. Thus the need of foundation garments cannot be stressed any less. Usually formal gowns hug the body tightly – specially those long straight skirts. Unfortunately that reveals a lot of details about your body, most of which are not very flattering to say the least.  Thus you may not exactly be thrilled the way your tummy curves or your rear ends appear in a body-fitting dress. To cut a long story short, foundation garments are your best option to keep those unsavory and unsightly things under cover.
Avoid risks
Foundation garments come in large varieties. Two of the most popular versions in the category include body shares and strapless bras. Strapless bras are a girl's most reliable friend to wear strapless gowns with high backs. When a gown comes with a low back, instead of a high one, you have to count only on spaghetti straps. However in such situations you can also rely on adhesive brassieres or long-line bras that come as both strapless and backless. It's never wise to be adventurous enough to take the risk of going bra-less. This type of gowns is always risky as during activities like dancing and other close movements the gorgeous dress may slip off to expose more than your bare back.  
Body shapers are by the way significantly popular with girls having curvy figures but with a bit of extra flab or roundness. There are plenty of girls, who're indeed slim but have a few extra pounds around the waistline or on the hips. A body shaper easily erases that away without a clue to reveal a sleek and smooth line beneath your dress. However, the range of products also caters to the needs of their overweight counterparts. The stiff fabric used in the girdle also helps you stand up straight and maintain an erect posture with a lengthening midsection.
Quality body-shapers are costly
A plush shape wear is designed with great care and precision. Thus, it makes your gown fit perfectly on your body to reveal an apparently hourglass figure. Such premium-quality product may be as costly as the gown you are wearing over it. In easier words, getting the deluxe range of body shapers with a budget constraint is like going on a wild goose chase.
Functional solution at reasonable cost
If budget is your roadblock then there're solutions to it too although that won't serve as good as the premium products.  Get a moderately priced strapless bra and a pair of high back pantyhose. This range of pantyhose is also called tummy-control pantyhose. It comes with a tummy panel inbuilt to adjust and distribute the extra flab in your stomach and the hips evenly around. As a result your gorgeous party gown lies smoothly over your body without any funny undulations while allowing you to be amply flexible.
Professionals with years of hands-on experience in designing backless body shapers share a word of wisdom in the given context. According to them while buying shaping pantyhose, you should invariably buy a size larger than you require. This ensures the item covers a larger area of your back and provides better support. The lesser the distance between the pantyhose and the bottom of the bra, the lesser is the chance of appearance of a visible line underneath the gown.
Article source: https://article-realm.com/article/Fashion/Clothing/6839-Body-shaper-for-dresses-to-make-you-look-gorgeous-and-attractive.html
Comments
No comments have been left here yet. Be the first who will do it.