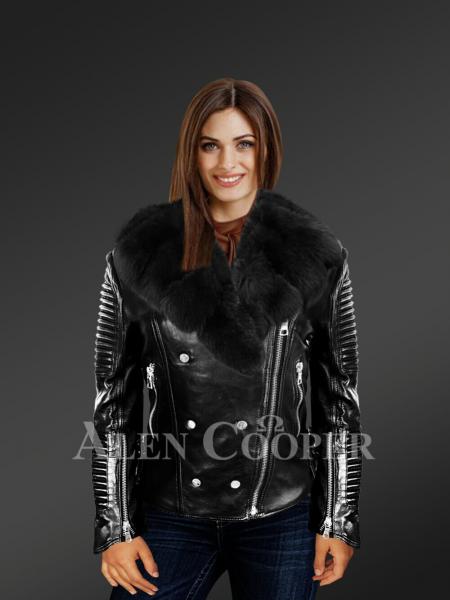 While choosing a motorcycle jacket, there are three criteria that you should focus upon. Those include durability, stylishness and ofcourse affordability. The three cardinal factors are equally important for every category of riders namely sport riders, bike cruisers and adventurers, who love thrashing around the woods on a two-wheeler.
Perfect fitting is the crucial criterion for any leather jacket, whether for men or women. That is why almost all good quality jackets come with extensive sizing option to make sure the item fits just the way a customer wants. In general, leather jackets come in two broad varieties as far as fitting is concerned. These include the aggressive-fit designs that are closely tailored and the standard ones offering roomy fit. Bikers mostly prefer the first category of jackets for all obvious reasons.
In the following section of this blog post let us explore few quintessential features that make these jackets sexier and more adorable.   
Rugged outer surface material
For all kinds of jackets, including leather and textile, the outer jacket shell braves all the abrasions, as well as resistance from the wind and the weather. Leather has been the conventional choice over the ages for abrasion resistance. There's nothing like leather jackets to serve you on this issue although many leather-like materials have come up these days that offer tough resistance and are yet much lightweight.
A good, tough and adorable biking jacket must be waterproof and windproof, other than being protective and warm on a cool morning or a chilly night. But they also turn unbearably hot at other times of the day specially in the afternoons. To avoid this inconvenience perforated leather is a suitable solution. But certainly there's nothing better than those zip-closure vents in solid leather.  You should consider investing in one if you've to ride a long way on bike early in the day or late in the night during chilly season.
Rugged fasteners and closures
Nothing can be as irritating as the main zipper on the jacket fails while you're on a ride. Usually those tiny non-metallic zippers are more prone to failing although variations do exist. Experienced professionals designing leather jackets for men over the years suggest looking for heavy-duty items wherever snaps are in use. Loop as well as hook closures are also suitable for pocket flaps. However they work fine initially but then they give way after a time if handled roughly.
A good biker jacket has impact protectors at the elbows, the chest and the shoulders, which make it also personal protective equipment to save you from injuries. An additional layer of protection reduces the chances of an injury having a greater impact on you physically. It may even protect you from any injury altogether. Though there cannot be any guarantee that an impact protector will prevent an injury in any given circumstance, yet it's crucial to consider this factor while selecting a biker jacket.
A biker jacket with plenty of spacious pockets is certainly an added advantage. Most likely you won't use all the pockets routinely but yet always go for a leather jacket that has lots of pockets in various sizes and at different locations.
Skilled designers working on women's leather motorcycle jackets share a word of wisdom in the ongoing context. According to them you should select bright colors for your biking jacket so that other drivers on the road can spot you easily in a low light condition or foggy weather when visibility suddenly drops very low. You may also consider reflective piping or stripes that shine in headlights to prevent accidents.
There are more factors that are worth considering while choosing a biker jacket. However the ones discussed above are more crucial and you just cannot afford to ignore any of those for your own safety.
Article source: https://article-realm.com/article/Fashion/Clothing/7090-6-Crucial-features-to-select-moto-leather-jackets-for-both-men-and-women.html
Comments
No comments have been left here yet. Be the first who will do it.