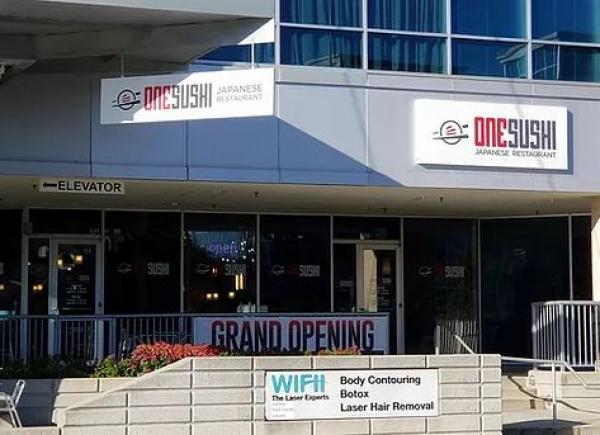 Whether you like it wrapped in rice and seaweed, prefer it sashimi-style, or like it chopped up in a bowl, there's no doubt that sushi is one of Japan's most famous exports. There are an estimated 4000 restaurants that exclusively serve sushi in the United States and worth over $2billion annually. People love it because of its unique umami factor and is considered comfort food, but a healthy version.

If you are new to the sushi experience, you must know about the different types of sushi. At One-Sushi, our Japanese restaurant in Sandy Springs, GA, we serve different types of sushi, but we've listed some of the most common types:

1. Nigiri:

Nigiri is a popular type of sushi and slightly on the expensive side. It is usually made using raw fish, sometimes using cooked shrimp, egg omelet, or tofu, but very rarely using meat. Thinly sliced fish is hand-pressed over vinegared rice.

Nigiri is also called edo-mae or 'in front of edo,' referring to its birthplace, viz Tokyo. It is believed to have been invented in the 1800s by a smart sushi chef as a quick snack to nearby workers visiting his stall.

Sometimes seaweed is wrapped in nigiri topped with eel (unagi) or crab (kani), while some sushi chefs use a blow torch for a slightly charred effect. And sometimes, fresh fish pickled in soy sauce or vinegar is used.

A nigiri is usually served in pairs, where a typical plate will have two or more pieces.

2. Sashimi:

Sashimi is another popular type of sushi made using raw fish but served without rice. Thinly sliced pieces of tuna or salmon are served with daikon, wasabi, and soy sauce on the side as condiments. A typical plate of Sashimi will have several pieces of fish. In some restaurants, you'll find pieces of raw beef, horse, or even chicken!

Technically, Sashimi is not sushi because it is served without rice. But it is commonly included on the menu in sushi restaurants.

3. Maki:

Maki or makizushi or norimaki is the most popular type of sushi where rice and other ingredients like cucumber, pickled daikon, and fresh fish are wrapped inside toasted seaweed using a special bamboo mat. In fact, norimaki literally means 'seaweed roll,' with maki meaning 'to roll.' Some of the most common types of fish used to make maki include salmon, yellowtail, and tuna.

There are different types of maki, viz. futomaki (large-sized rolls), hosomaki (small-sized rolls), temaki (rolled into a cone), and gunkanmaki (made using fish roe).

4. Uramaki:

Uramaki is norimaki wrapped inside out. i.e., the rice is on the outside while the nori is inside. Surprisingly, uramaki is not of Japanese origin. It is believed to have originated in Los Angeles and is considered one of the most popular types of sushi in the United States.

Author Bio:

The author manages One-Sushi, a popular sushi restaurant in Sandy Springs, GA. He loves explaining the different types of Japanese cuisine, especially sushi.
Article source: https://article-realm.com/article/Food-and-Drink/11529-4-Different-Common-Types-Of-Sushi-You-Must-Try.html
Comments
No comments have been left here yet. Be the first who will do it.