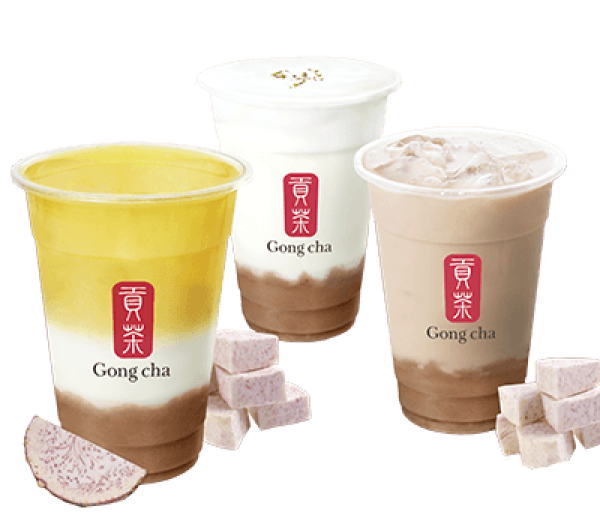 This season try the new Brown Sugar Ginger Milk Tea at Gong cha. Feel free to sip this series either hot or cold at select Gong cha stores.
As you probably know, Gong cha's ultimate goal is to serve its customers amazing bubble tea with quality.
The new drink has been introduced to specifically get you through the fall & winter season. Brown sugar ginger milk tea served hot is perfect for the cold days coming up.
Combine our Brown Sugar Ginger Milk Tea with our pearls (bubbles / boba / tapioca) for the perfect combination.
Gong cha is one of the best bubble tea brands in the world. The company is known for serving mouthwatering bubble tea combos that quench the thirst and craving of any bubble tea lover.
Gong cha always works hard to add new drinks to the menu list and that's what they did again with the introduction of ginger!
Gong Cha always tries to introduce a new drink variety for the fall & winter. As expected, you can drive down to the nearest bubble tea store near you and place your order for the Brown Sugar Ginger Milk Tea.
Variety of choice to make
Brown Sugar Ginger Milk Tea will leave you looking forward to your next visit at Gong cha.
If you're looking to eliminate the winter cold, a freshly served hot Brown Sugar Ginger Milk Tea will offer the warmth you need. Just pair with your favorite topping and you will be satisfied.
Again, you can order this drink from any participating Gong cha store.
Hot Brown Sugar Ginger Milk Tea keep you warm this winter
Stay warm on the cold winter with the hot Brown Sugar Ginger Milk Tea. It is not as crazy as you've always imagined. The drink has jumped right into becoming a popular go-to for cold and hot days.
I bet it, you hate to touch something cold during winter. That is where the hot Brown Sugar Ginger Milk Tea with tapioca Pearl comes in.
You can find this Brown Sugar Ginger Milk Tea at selected Gong cha bubble tea store. However, you can get more than just this drinks at Gong Cha. Gong Cha offers 70 different flavors with several topping choices to make, including grass jelly, tapioca pearl, pudding, red bean topping.
Gong Cha has several locations in the United States with many more opening. The company is set to launch new stores in November which promises to feature the return of the oat series. In addition, you can also find these oat series in any of our select stores.
Some of the new stores are:
The San Antonio store is located at 11707 Bandera Rd suite 107, San Antonio, TX 78250 and will be launched in October 2021              
The Philadelphia store is located at 1122 Washington Avenue, Philadelphia, PA 19147, and should open in November 2021              
The Fort Worth store in Texas is located at 9633 North Fwy Fort Worth, TX 76177​ and should be opened in November 2021              
About the Author:
Rosario Berry is a professional freelance writer, like to introduce Gong cha store locations. Gong cha has created an online ordering platform where customers can place Bubble Tea online order for their favorite bubble tea combo through their app or web page.
Article source: https://article-realm.com/article/Food-and-Drink/Coffee/17271-New-Brown-Sugar-Ginger-Milk-Tea-at-Gong-cha.html
Comments
No comments have been left here yet. Be the first who will do it.