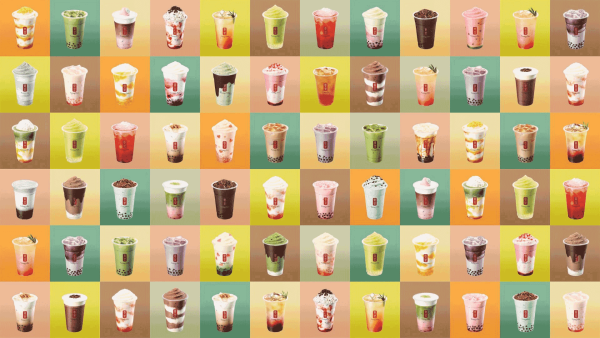 The bubble tea industry is already a fast growing industry and a significant portion of that growth is taking place in the United States. Bubble tea, also referred to as boba tea, has become a part of the social lifestyle for many people. Not only is the drink cherished for its unique and vast array of flavors and ingredients, but also for bringing people together.
Gong cha is a widely popular bubble tea brand and is all set to launch four new locations in Illinois. Its first recent launch will be coming in Naperville. With these new locations, the brand will further contribute to the popularity and expansion of bubble tea across Northeast America.
Why is Bubble Tea So Popular?
Bubble tea, infused with its unique tapioca pearls, is widely popular for its versatility and customization. With Gong cha, customers can choose from hundreds of possible combinations of sugar levels, milk types, toppings, and many other options.
Some of the popular flavor options available to Gong cha fans include:
 Early grey
 Watermelon
 Strawberry
 Passionfruit
 Mango
 Lychee
 Taro
 Caramel chocolate
 Matcha
 Lemon
 Yogurt
Some of the popular toppings options from Gong cha include aloe, herbal jelly, pudding, coconut jelly, Oreo crumbs, and basil seeds to name a few.
Best Bubble Tea Coming Up in Chicagoland
Chicagoland is getting four new best bubble tea locations this summer, with the first one in the series coming up at Naperville. The first location is being opened at H Mart, 1295 E Ogden Avenue. This step will bring a Gong cha store nearer to bubble tea fans in Chicagoland. The other locations planned in Illinois for this month include:
 Mid-North District at 2233 N. Lincoln Ave
 Loyola University Chicago, at 1139 W. Sheridan Rd.
 University Center of Chicago, 525 S. State St.
Why Gong cha is the Best Bubble Tea?
There are many factors that help Gong cha elevate itself to the top of the bubble tea experience. Some of these key factors include:
The Promise of Premium Quality
Every cup of Gong cha bubble tea is made of premium tea leaves and ingredients sourced from the finest tea estates. Each step in the tea production process must pass careful scrutiny to qualify for the Gong cha experience. This includes every step from tea cultivation to drying to purification.
Precise Recipes
Gong cha has specialized tea masters that follow precise and consistent recipe formulas across all their stores. This not only helps produce exceptional results in terms of the drinks but also ensures consistency in the bubble tea experience across all the stores. With the upcoming stores in Chicagoland, you should expect the same experience across all the locations.
Human Value
Gong cha has well-established and proven customer experience values. Every guest is greeted and treated warmly with the highest sincerity. The brand's customer experience objective is to create happiness in every cup they offer and human life they touch. It is not just the customers, but Gong cha's in-house team is also treated with the highest level of dignity.
Gong cha is always innovating. There are almost endless flavors and ingredients to choose from and the numbers continue to grow, as do the number of stores in Central U.S. and elsewhere. for any questions about our hours of operation, or about our premium bubble tea please call (630)-995-3276. For all other inquiries please contact us at inquiries@gongchaillinois.com.
About the Author:
Rosario Berry is a professional freelance writer, like to introduce Gong cha Illinois. Gong cha offers 600 possible drink combinations of Bubble Tea In Naperville IL allowing guests to select their sugar level, ice level, choose from six different milk foam series, and eleven toppings.
Article source: https://article-realm.com/article/Food-and-Drink/Coffee/22149-Find-The-Best-Bubble-Tea-in-Chicagoland.html
Comments
No comments have been left here yet. Be the first who will do it.