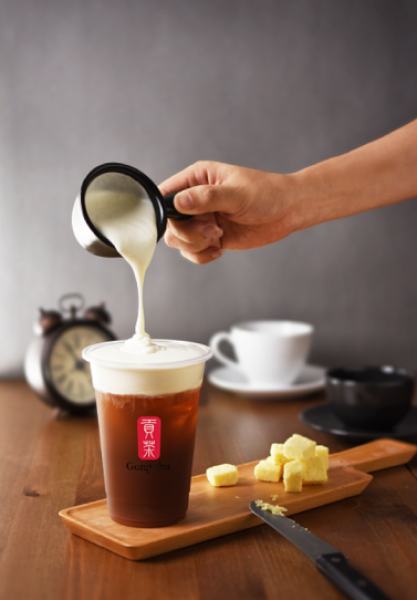 Bubble tea or boba is now coming to Chicagoland. The drink, with its Taiwanese roots, has become widely popular in the U.S. and continues to grow with new stores being launched all over. Gong cha offers hundreds of potential combinations of ingredients, sugar levels, ice levels, milk, tea, and toppings. There are dozens of flavors on offer and once the new stores open in Chicagoland, fans will be able to savor them all.
What Makes Gong cha Unique?
Besides all the variety on offer, there are a few aspects that make Gong cha's bubble tea offerings unique. This includes:
 Fresh Ingredients: The tea is brewed fresh all day long, with a shelf life limited to 4 hours. Similarly, the tapioca pearls are also freshly prepared throughout the day.
 Quality Tea: The tea used for making bubble tea is sourced from the finest tea estates.
 Quality Control: All ingredients must pass strict quality controls.
Gong cha's Milk Tea Series
Gong cha has built a global reputation for its signature Milk Tea series. Each cup of milk tea is hand-crafted for each customer. The most popular flavors and variants in the Milk Tea series include:
 Milk Tea Green, Black, Oolong, & Earl Grey
 Caramel Milk Tea
 Pearl Milk Tea
 Wintermelon Milk Tea
 Brown Sugar Milk Tea
 Strawberry Milk Tea
 Earl Grey Milk Tea With 3J's (With Pearls, Pudding & Herbal Jelly)
Innovation is an important part of Gong cha's process. The brand is always creating new flavors and experiences. So, by the time it has launched all its four new stores in Chicagoland, bubble tea fans can expect even more ingredients and flavors to be added to this Milk Tea series.
The Gong cha Experience
The Milk Tea series is only one of the bubble tea series offered by Gong cha. The brand has many other offerings with dozens of flavors and toppings to choose from.
 Premium Quality Tea Leaves: Whether it is the tea leaves or other ingredients, only the highest quality ingredients are used in making Gong cha bubble tea. The entire tea production process is scrutinized before the tea leaves are selected from a tea estate.
 Dignity & Integrity: Every customer is treated with utmost warmth. At Gong cha, every cup of bubble tea is prepared to offer a bundle of happiness. Both customers and staff members are treated with the highest dignity.
 Creativity: The bubble tea industry is always evolving. Gong cha not only follows the industry trends but creates its own as well for the others to follow. The brand is always launching new flavors. Recently, it introduced the Strawberry Milk Tea and Earl Grey Milk Tea flavors and is expected to launch more options in the near future.
Chicagoland now has the famous boba drink and the number of stores of Gong cha is expected to continue growing. Bubble tea fans from the region will now be able to explore and enjoy more flavors, ingredients, and toppings. If you want to learn more about Gong cha's Milk Tea series or other offerings, for any questions about our hours of operation, or about our premium bubble tea please call (630)995-3276. For all other inquiries please contact us at inquiries@gongchaillinois.com.
About the Author:
Rosario Berry is a professional freelance writer, like to introduce Gong cha Illinois. Gong cha offers 600 possible drink combinations of Bubble Tea In Naperville IL allowing guests to select their sugar level, ice level, choose from six different milk foam series, and eleven toppings.
Article source: https://article-realm.com/article/Food-and-Drink/Coffee/22151-The-Famous-Boba-Drink-in-Chicagoland.html
Comments
No comments have been left here yet. Be the first who will do it.