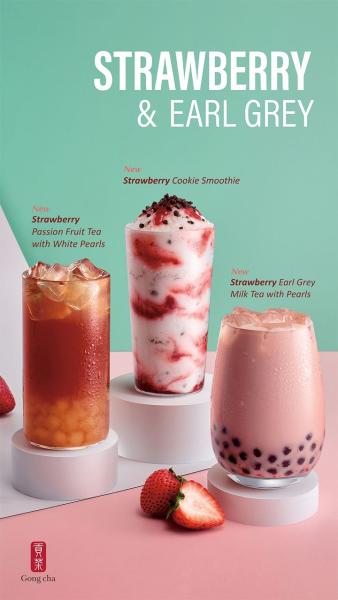 Bubble tea has increasingly popular because of its novelty, taste, versatility, and aesthetics. Also referred to as boba tea, it has become a sensation due to its unique tapioca pearl experience and hundreds of flavors, toppings, and combinations of ingredients. Gong cha is an innovative and major bubble tea brand that continues to expand and grow in the U.S. In its latest announcement, the brand has revealed its plan to launch 4 new stores in Illinois.
Gong cha – The Specialty Bubble Tea
Gong cha has been gaining widespread popularity as a bubble tea brand due to its high level of customization. There are hundreds of drink combinations that guests can create based on their preference for sugar, milk, toppings, and ice levels. As the brand continues on its expansion story, there are many underlying factors that have contributed to its growth. This includes:
 Unmatched Taste: Gong cha is delicious. Guests have almost endless flavors and options to taste and experience.
 High Degree of Customization: There are more than 600 potential combinations that vary in terms of the level of sugar and ice, type of milk, toppings, and ingredients. Just like the addition of its new stores, the brand continues to discover new flavors by adding new ingredients to its line-up.
 Beauty of Bubble Tea: Aesthetics play an important role in making the Gong cha experience more pleasing. The colorful elegance of bubble tea makes it a popular and trendy topic on social media websites such as Instagram.
Gong cha offers endless flavors and ingredients under a number of series that include:
 Milk Foam Series
 Milk Tea Series
 Coffee Series
 Slush Series
 Tea Latte
 Creative Series
 Toppings
Some of the popular flavors include passionfruit, lychee, strawberry, caramel chocolate, matcha, and lemon wintermelon basil seeds. When it comes to toppings, guests can choose from aloe, coconut jelly, pudding, basil seeds, AI-Yu jelly, Oreo crumbs, and herbal, among others. There is something unique at a Gong cha store for everyone.
New Stores in Illinois
Gong cha is opening its new bubble tea stores at the following locations in Illinois:
 H Mart, 1295 E Ogden Avenue in Naperville
 Mid-North District at 2233 N. Lincoln Ave
 Loyola University Chicago, at 1139 W. Sheridan Rd.
 University Center of Chicago, 525 S. State St.
All these locations are planned to be operational before the end of the year 2022.
The Gong cha Value
Like any other Gong cha location, the new stores in Illinois will also become part of a tradition that revolves around delivering premium value and experience to the guests.
 Quality: Only premium quality tea leaves and ingredients are used to create a unique and consistent Gong cha experience.
 Integrity: Standard recipes are followed to ensure consistency in the bubble tea experience at all the stores.
 Innovation: New innovations are part of the story at Gong cha, as new ingredients and flavors are always under development.
With the new stores in Illinois, Gong cha will strengthen its brand presence in the region and deliver its unique bubble tea experience to customers. For any questions about our hours of operation, or about our premium bubble tea please call (630)995-3276. For all other inquiries please contact us at inquiries@gongchaillinois.com.
About the Author:
Rosario Berry is a professional freelance writer, like to introduce Gong cha Illinois. Gong cha offers 600 possible drink combinations of Bubble Tea In Naperville IL allowing guests to select their sugar level, ice level, choose from six different milk foam series, and eleven toppings.
Article source: https://article-realm.com/article/Food-and-Drink/Coffee/22152-The-Most-Popular-Bubble-Tea-Gong-cha-Will-Open-4-Stores-in-Illinois.html
Comments
No comments have been left here yet. Be the first who will do it.