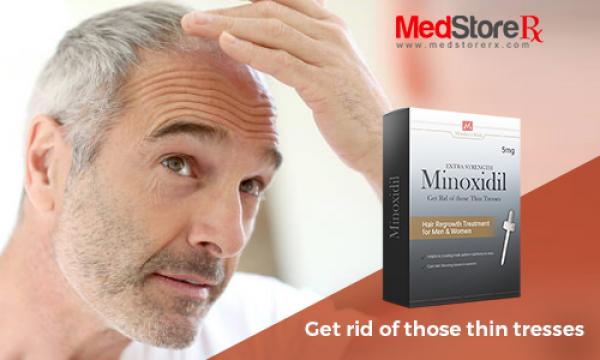 Generic Minoxidil is a topical solution that is prescribed for the treatment of hair loss. It is known as alopecia in medical terminology. It is an effective medicine for preventing hair loss and promoting regrowth of hair.  This medicine was approved by Food and Drug Administration (FDA) for treating hypertension (high blood pressure) before. This medicine acts as a vasodilator, thus increasing the blood flow. For promoting hair regrowth on scalp, only topical form of Generic Minoxidil is prescribed and not oral. 
Prominent features
• It helps in nourishing the scalp and hair follicles to encourage hair growth.
• It produces a fast action and provides actual results if used on regular basis.
•  It adds volume to your hair
•  Generic Minoxidil is sold without prescription at cheaper rates
Mechanism of action
The exact mechanism by which Generic Minoxidil works is not clearly understood. It is a powerful vasodilator which produces dilation of arteries which in turn enhance the amount of blood supply. The improved blood supply provides more oxygen and nutrients to vital organs, including scalp. This nourishes the scalp and hair follicles for the growth of new and denser hair. 
Follow the below steps for effective use of Generic Minoxidil
Apply this medicine in the amount and for the time as directed by the physician. Applying more than recommended dose will not hasten the process of hair growth; on the other hand it will produce undesirable effects. Assure that your scalp is dry before you apply this medicine to your scalp and hair.  Applying it two times in a day only on your scalp will give you best results. Wash your hands properly before and after applying the medicine. You may need to use this medicine for four months or more for obtaining complete results. Store this medicine in a cool and dry place away from direct heat and sunlight.
Adverse effects
There are certain adverse effects of this medicine as any medicine with therapeutic action will have side effects. But these side effects often subside on discontinuing the medicine
Change in hair color or texture, itching of scalp or irritation, undesirable hair growth on face, mild headache, mild dizziness, mild flushing are some of the side effects. Contact your physician in case the side effects persist long period of time.
A word of caution
Keep Generic Minoxidil away from children. In case you forget to apply the medicine, make sure you apply it as soon as your remember, but do not apply more amount than recommended. Overuse of Generic Minoxidil 5mg can irritate scalp and produce undesirable reactions. Avoid contact of this medicine with your nose, eyes and mouth. If you accidentally come in contact with the medicine, rinse the part with ample amount of water. Do not make use of other cosmetic products while using generic minoxidil. Persons allergic to Minoxidil, those below 18 years of age, and those who suffer from inflammation of scalp should avoid this medicine.
Things to remember
• Your physician should be aware of your complete medical history before he prescribes you this medicine.
• Do not apply this medicine on already inflamed, irritated and swollen scalp to avoid complications.
• The use of this medicine during pregnancy and breast-feeding is not desirable 
• Tell your doctor if you are using  any cosmetic products
Article source: https://article-realm.com/article/Health-and-Fitness/Hair-Loss/458-Generic-Minoxidil-Effective-remedy-for-hair-loss.html
Comments
No comments have been left here yet. Be the first who will do it.