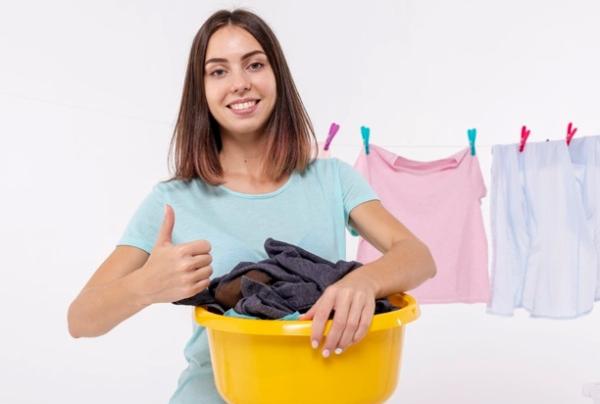 What is laundry cleaning?
Laundry cleaning refers to professional laundry services where professionals use high-quality detergents or essentially nature-friendly soaps mixed with water to clean your clothes and other linens. These types of professional washers not only clean your clothes but also dry them carefully, followed by pressing or ironing. Lastly, they professionally fold the clothes or hang them as per the request of their customers.
Services offered by professional washers:
Washing services: In commercial washing services, professionals use skin-safe detergents or liquids to wash the clothes, followed by drying and pressing or packing garments. There are two types of washing services namely, wet cleaning and dry cleaning. Wet cleaning refers to the washing of clothing articles with the help of detergents mixed with water, which do not cause any allergic reaction to the skin and is eco-friendly. While dry cleaning refers to the cleaning of clothes with the help of organic solvents or liquids other than water. Dry cleaning is used for fabrics that upon washing with water can be damaged like silk, wool, or linens.
Ironing services: In commercial ironing services, clients provide clean clothes. In these types of services, the employee must carefully iron the clothing articles, keeping in mind the material of cloth they are ironing and therefore, use a suitable temperature for the procedure. Steam ironing is a very effective way to iron clothes which helps to get rid of creases easily. Moreover, trained pressing of clothes increases the longevity of clothes and also makes them look fresher.
Dry cleaning services: These services will prove effective once you avail of them. Often you are in a dilemma about how to wash a particular cloth which is delicate and expensive. Dry cleaning is the way to pamper those fabrics you have. This procedure uses organic solvents to clean your clothes instead of water, which prevents the damage or shrinkage of your favourite fabrics.
Wash and iron services: There are services as well which enable you to avail both piles of washing as well as ironing by experts. Here, you provide used clothes which are washed as well as ironed by the services.
Cleaning of bulk items: For the convenience of clients, many laundry cleaners in London have also introduced the feature of washing bulky items like pillows, cushions, or blankets which need special cleaning methods. These items are carefully cleaned by trained personnel according to the instructions provided by the clients or by the respective manufacturing companies.
Differences between wet cleaning and dry cleaning
The basic difference between wet cleaning and dry cleaning is while wet cleaning involves the use of water to wash your clothes, dry cleaning uses organic solvents to clean your items instead of water.
Wet cleaning uses water accompanied by detergents or soaps to remove stains or dirt and clean the clothes, while dry cleaning uses a chemical called tetrachloroethylene to wash your laundry.
A process called the spinning process cleans the clothes in wet cleaning in the washing machine itself, while the clothes in dry cleaning are cleaned using special machines.
Benefits of dry cleaning
Washing delicate fibres with water can rip them apart, but dry cleaning would rather preserve them because it does not use water to wash delicate fibres.
Before the process, professionals treat any stains that are present on the fabric with chemicals so that during the process, the stain can be easily removed. This procedure removes any kind of tough stain much more easily than wet washing.
Even for non-delicate clothing articles, continuous washing with water leads to the breaking of the cloth fibres, which decreases the fabric's self-life. Dry cleaning sometimes increases the life of your garments.
This cleaning procedure even saves your time. The clothes you give up to the dry cleaners let you have that free time for yourself.
Laundry pickup services
In laundering companies, you have to drop off your laundry at the shop and pick it up at your convenience or at a time specified by the company. But, for the ease of customers, many professional washing companies offer to even pick up your laundry right from your doorstep. To pick up your laundry, you can contact trusted laundry pickup services near London.
Besides picking up services, launderers also offer to deliver your clean laundry to your house for free. Availability of a 24-hour facility or around-the-clock service is also an important necessity for those who require emergency laundry services. The option of express laundry service is also available, which enables you to get your laundry cleaned the same day as you send it out for washing. Avail of all these options and get your used laundry cleaned today by laundry cleaners in London.
Benefits of laundry services:
You can easily go for professional cleaning services nowadays because they are quite affordable.
Laundry cleaning helps in easy and effective removal of stains and built-in odour, which are otherwise hard to get rid of in usual home washing.
You can save a lot more time on weekends to enjoy relaxation.
For the best experience, do some research on the internet and choose the best commercial cleaners in London.
Article source: https://article-realm.com/article/Home-and-Family/20226-Hiring-commercial-cleaners-is-an-eco-friendly-way-to-clean-your-clothes.html
Comments
No comments have been left here yet. Be the first who will do it.