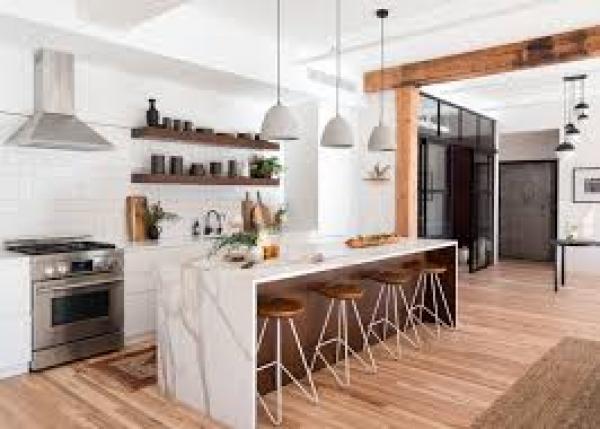 When making a selection of benchtop materials for your kitchen, you should consider several factors. Firstly, you should check how the benchtops would complement the interior decor of your kitchen. Thus, you would have to based on the decision of your materials on features such as texture, colour, and etc. Secondly, you need to consider the amount of usage that they will be exposed to. If you do not cook regularly, you could get away with placing soft benchtop materials. However, if you are an eager cook, you would be better off with highly durable materials that would be able to keep up with the needs of your kitchen. So what are some of the benchtop materials to consider when remodeling your kitchen?
Laminate benchtop materials
If your primary consideration when in search of new benchtops is affordability, the laminate would be a good material for your kitchen. This type of material comes in a wide array of colours and patterns, making it a versatile option when looking to add a unique finish to your kitchen. However, it should be noted that laminate benchtops materials are not highly durable. You would have to take measures to ensure they are not exposed to scorching and scratching or you would end up having to replace your benchtops after a short period.
Wood benchtop materials
If you are looking to install benchtops that will add a rustic appeal to your kitchen, timber benchtop materials would be a perfect option. Wood remains a popular choice or different applications in and around the home because it provides you with a classic appeal that will never go out of style. However, when selecting timber benchtops, you would have to consider the different species that are available to suit your needs. If you need sturdy, long-lasting benchtops, you should opt or butcher block benchtops made from hardwood. These types of timber benchtops have a long lifespan so make a worthwhile investment. In addition to this, since they are made from mature timber, they are less susceptible to superficial damage.
Stone benchtop materials
Natural stone is also an attractive choice as it comes in an assortment of colours, depending on the minerals that it is made up of.
If your topmost concern when choosing benchtops is durability, a stone would be your best choice. These materials give you enhanced durability because they have three primary preppies to protect them from deterioration. These properties are being resistant to stains, scratches, and heat. 
Article source: https://article-realm.com/article/Home-and-Family/Home-Improvement/5812-Types-of-Benchtop-Materials-to-Consider-When-Remodeling-Your-Kitchen.html
Comments
No comments have been left here yet. Be the first who will do it.