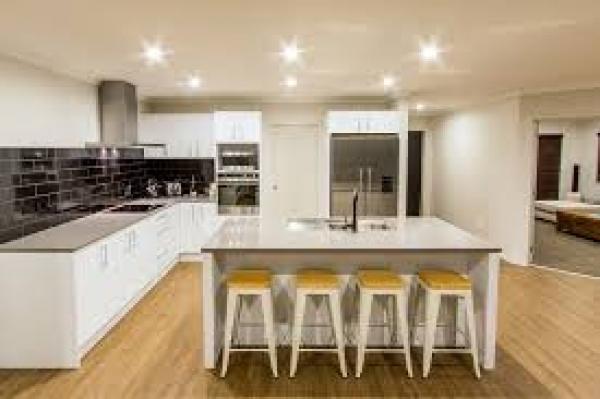 A kitchen's benchtops are very essential, as they provide the surface needed for food prep and cooking but will also change the overall looking of a kitchen. When choosing new benchtops for your home's kitchen, you need a beautiful surface that can withstand the wear and tear of cooking appliances as well as the humidity and heat of a kitchen. Here list down of types of kitchen benchtop materials for your home kitchen
Wood
A butcher-block countertop can be very natural and even a little rustic looking and can tone down the look of stainless steel appliances. Wood is easy to install and eco-friendly if you see recycled pieces to use. However, a butcher-block benchtop needs consistent sealing and maybe the most delicate of all the surfaces, as it's often easy to burn, scratch, or stain wood, even with a quality sealant.
Metal
A builder can often fit a piece of stainless steel over your kitchen's benchtop, allowing you to forego the cost of having the current benchtop torn off. Metal is also naturally hygienic, as it resists dirt, bacteria, and germs, and is easy to clean. One disadvantage of metal is that it can be overwhelming in the space and may make your kitchen seem a bit industrial.
Laminate
Laminate is another budget-friendly choice; this is a treated plastic or paper that is applied over layers of very reasonable wood. The laminate surface will be stained or painted to resemble another material, but note that it will always have an artificial look and feel to it. Laminate may also finally come away from the bottom layers of wood, so you would require to have the top layer reglued on occasion.
Stone
Stone is always natural-looking and attractive, and is also very dense and durable, so a stone benchtop is not likely to hold germs and bacteria. Stone is also very resistant to heat and moisture, so it won't get damaged just from the humidity and high heat of a kitchen. The density of stone also means that you can normally prep food right on the surface without disturbing about scratches. Stone does need to be sealed and may also require an occasional buffing to bring out the shine, but it's often one of the most desired choices comparing to other benchtop materials.
Article source: https://article-realm.com/article/Home-and-Family/Interior-Design/5862-Types-of-Kitchen-Benchtop-Materials.html
Comments
No comments have been left here yet. Be the first who will do it.