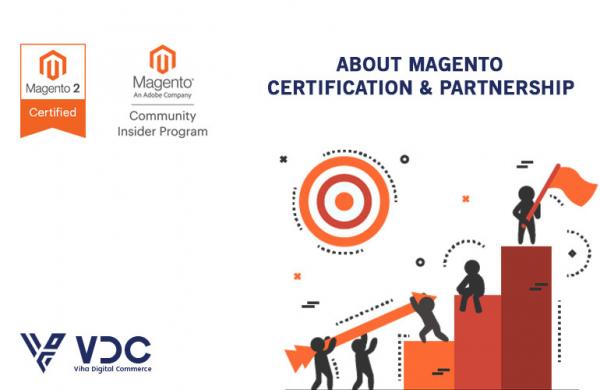 About Our Magento Certification & Partnership
Viha Digital Commerce is an established private ltd eCommerce web development agency that has created its own identity in IT sector. We offer Magento Store Design and Development services at an affordable price. We have been rated as one of the leading eCommerce branding solution and experts in digital marketing all over the world. We have a huge client base setup at different locations. We offer result-oriented services for your eCommerce store plus well-structured online marketing solutions for a number of industries.
Magento Certifications
We take the pride to announce that recently, two members from our team have passed Magento exams to become certified Magento developers. It is an achievement that is added to our team and it would help us offer enhanced Magento development technology to our clients. Good newsare still going on.
Magento Community Partner
We have another great achievement is we also become Magento Community Partner.
Viha Digital Commerce believes in delivering the best Magento solutions to their client. We understand the complexity of Magento platform and thus hire certified Magento developers to cater to the needs of our clients. With expertise in Magento, we can always suggest you the right solution for your online store and deliver the project that suits your needs.
Other Partners
Viha Digital commerce works closely with technology partners to offer our clients most advanced technology and effective solutions. Our partners offer extensions, modules and plug-in themes as Magento development support. Our partners also offer digital marketing solutions to all our clients. Viha Digital commerce is expanding their network of partners to serve the clients better.
We are Proud to have an Established Network of Partners Like
We have nearly 25 consultants who assist clients across 72 plus countries. We utilize our experience and skills to serve retail, small, medium size businesses to get maximum benefits from ICT and generate revenues. We also help MNCs benefit through our hire developer services to get assistance from our expert and certified Magento developers. We have more than 35+ staff members in our Viha Digital Commmerce family.
We believe in completing each and every project within given deadlines. We help our client get constant updates on the progress of their project. Our support team is always ready to help you with your queries.
Our Magento development services offer what is promised
Help improve your site performance and loading speed.
Offer SEO friendly browsing so that the customers get relevant search results.
Our Magento development services let you increase conversions with the help of easy check out pages.
We connect your eCommerce store to all popular social media sites to help you get online recognition.
Provide detailed reports and data
Help manage multiple store through just one admin
Offer customized marketing tools
Easy one page checkout
Upgrading to a new Magento version on a regular basis.
Frequent backups to protect sensitive data
We offer end to end professional Magento development solution that is based on customer based engagement framework. We have served around 500+ clients from distinct sectors. We offer 100% transparency to let the customer know how the project is progressing. Our rates are affordable and each time you hire us you get 100% work satisfaction and result driven Magento solutions.
We take the pride of working on a number of projects that become part of our excellent portfolio. We have successfully completed projects in Magento 1X, 2X, Pretashop, Shopify and WordPress. We have worked on projects that created the real impact for each business we provided the solution for.
We understand the importance of eCommerce store for your business and thus assist you generate revenues for your business. Looking at the technology demands, we are equipped with certified Magento professionals so that your business prospers.  Each and every project that we work on is monitored personally by certified team members personally. We welcome your suggestions at any stage of the project and also suggest you the right solution when required. We deliver error and bug free products. We offer professional services at highly competitive rates.
We use latest technology as per industry standards so that you get the benefits of modern technology. We work in a systematic manner so that each and every module of your project is checked thoroughly. Our quality assurance team work closely with the developers to ensure that the project is bug free. We resolve the errors immediately so that the end result is error free. We strongly believe that our team is the key to our success. With the help of their expertise and hard work we have been able to serve you better over the years and successfully attain the identity as one of the professional Magento development service providers. We firmly believe that our clients also play an important role in our success.
Article source: https://article-realm.com/article/Internet-and-Businesses-Online/1520-Proud-to-Announce-News-for-Our-Certifications-and-Magento-Partnership.html
URL
https://www.vihadigitalcommerce.com/hire-dedicated-magento-web-developer/
If you want to hire ecommerce developers remotely or on-site at competitive rates from countries like India, VDC offers certified Magento developers. While our hourly rates are much lesser than that of your native region consultants, we guarantee technical expertise of our professionals that will achieve you same level productivity within stipulated time-frame.We offer all our clients 100% confidentiality maintained over their data and executions. We have flexible engagement models - you can hire Magento web developer for part time or full time as per your needs.Our existing and huge client base speaks of our bright success and process outsourcing a completely viable and cost-saving option.
Comments
No comments have been left here yet. Be the first who will do it.