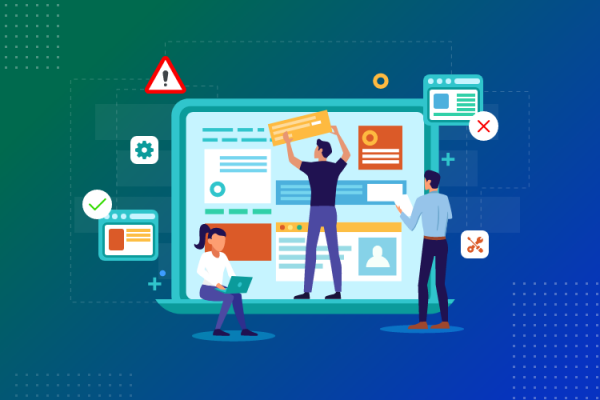 Websites have become the focal point of all activities taking place on the internet. People have relied on websites for information, gossip, and entertainment, with the additional expansion of people looking towards the website to shop online. Most websites have a team of developers working to keep their websites well designed and updated according to the guidelines of Google. However, when it comes to redesigning, it is nothing less than walking on an unstable bridge for the website designer and developers.
There are so many things that can go wrong during the redesign, which is why it is important you are aware of the website redesign mistakes. By knowing what can go wrong, you can prevent those mistakes and guide your team to do the same. This will save you and the website you work for time and resources. 
10 Website Redesign Mistakes that you Should Look to Avoid
As a developer, one of the most important tasks that you will ever be faced with is the redesigning of a website. You will have a lot of points to consider and will have to spend weeks working out the new look. However, despite the many weeks of planning, editing, and formatting, you could still possibly be open to the risk of website redesign mistakes that you should look to avoid. Google ranking is very important for websites as it allows you to rank higher in searches. The higher your website, the better chance a user has of clicking on your link. As you read on, you will find a list of 10 possible mistakes designers are most likely to make, according to the website valley. 
1. Keep HTTP request to a minimum
Requesting for various HTTP scrips only adds to your page loading time. It might not seem like much, but different requests add up to make a good percentage of the load time. 
2. Unoptimized Media
 You need to ensure that the media you use, whether videos or images, is not causing your page load time to increase. The average user is impatient and requires pages that load instantly. 
3. You need a Responsive Design
Most developers forget the need for a responsive design, which is why when you are listing website redesign mistakes, you have to prioritize responsive design. 
4. Forget to test all elements
Sometimes it is the smallest of elements in a web page that reduce the look of a website and the interest of the user. As a web designer, you need to make sure that you have tested even the smallest of elements. Issues in regards to fonts, alignment, and image transparency do not go unnoticed. 
5. Check all Aspects of your Website
Once the website is fully designed and has certain parts that do not work or function, it becomes an element that can put off the user. Check such areas of your website. If you have an ecommerce website, make sure you carry out a few transactions before making the website live. You can use the services of website design services in UK to carry out all the checks for your website. 
6. Page Speed
In the mission of achieving the best possible designs, website designers forget to work on prioritizing page speed. The most common redesign mistake is forgetting to reduce load times as much as possible. Google ranking has made it compulsory for the page speed to be more than average in order for the website to rank. 
7. URL Changes
A common website redesign mistake is not carefully changing the structure of the URL during redesigning. This can lead to loss of organic reach, traffic and rankings.
8. Not Measuring your Results
It is extremely important that as a web developer, your website has set personal goals to achieve. When redesigning, you have to be aware of the fact that whether your website achieved those goals. You should be making changes accordingly and should always have the option of checking and measuring your results. 
9. Website Security is Important
As a developer, it is necessary that you pay equal attention to the security of a website, especially during a redesign. 
10. Check Everything
If everything seems to be working fine, it does not give you the right to skip a checklist. As a developer, it is essential that you have a final checklist that allows you to ensure you have not made any website redesign mistakes. 
Article source: https://article-realm.com/article/Internet-and-Businesses-Online/Web-Design/13022-10-Website-Redesign-Mistakes-That-Destroy-Google-Ranking.html
Comments
No comments have been left here yet. Be the first who will do it.