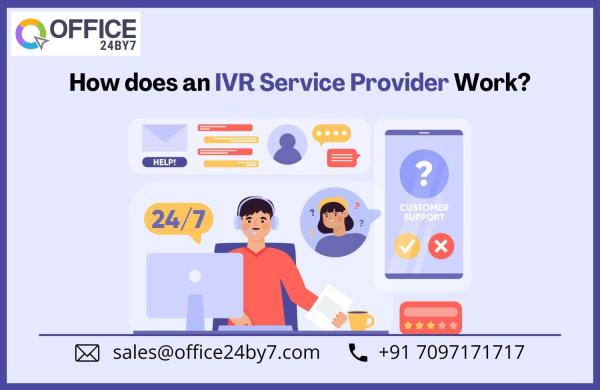 The most advanced voice over IP (VoIP) solutions today all have interactive voice response (IVR) systems, which engage with callers and respond to their preferences based on the data they provide. Those who have ever been asked to "speak or push one for English" are familiar with interactive voice response systems. The collected data is then used for things like call distribution, caller identification, information delivery, and the automation of routine procedures (such PIN changes and automated payments) for which a human agent isn't necessary.
How Does an IVR Work?
When contacting a customer service center, the first thing callers will hear is an interactive voice response system (IVR). Pre Recorded messages are played when a call comes in, and then the caller is given a choice of many menu items. You may get in touch with the service department by pressing 1 or saying "Service," the sales department by pressing 2 or saying "Sales," and so on.
In order to gather as much data as possible before taking any action, IVR systems often have hierarchical menu structures. If a customer dials the service line and is then sent to a drop-down menu, the latter can inquire as to the specific product in question. The IVR calling system will be able to route your call to the appropriate department.
Automatic call distribution (ACD) systems often use IVR. Callers are sorted by priority and placed in a queue based on information gathered from the IVR and call metadata, and then connected to the next available agent who is most equipped to assist the client as soon as feasible. When used in tandem, these resources may drastically reduce hold times and boost your team's daily call capacity.
Advanced IVR
The evolution of IVR calling systems has resulted in more natural, expedient, and delightful interactions with the system for the client. Natural Language Processing (NLP) software, which is a sort of conversational AI, is one of the most user-friendly developments.
As opposed to restricting the caller's lexical options by just recognizing certain instructions, this cutting-edge speech recognition technology allows the computer to interpret and analyze whole phrases. When given open-ended questions such as, "How can we help you today?" IVR software that uses natural language processing (NLP) may provide thorough replies.
Customers like the flexibility they feel they have when speaking with a customer care representative over the phone, and they express their appreciation for this conversational kind of service. Since callers may skip the fluff and go directly to the meat of the matter, this method of using the IVR saves time as well.
Benefits of IVR
IVRs auto-filter incoming calls. Each time an agent takes up the phone, they may get a glimpse of the caller ID. Menu choices decide this call type.
Callers benefit from a well-informed and ready representative. You won't spend time and energy being transferred from department to department by an agent.
By not putting clients on wait many times throughout a call, you may save money and reduce customer frustration. This is a win-win scenario.
Gain authority
Install an auto attendant on your workplace phone. This will help your customers. Improving your brand's dependability overnight is doable. Add IVR software to your auto attendant. IVRs are a great way to boost a company's image since each caller receives the same brand-appropriate greeting.
If you portray yourself this way, customers will trust you more since you take your company seriously. This makes your organization look more professional and prepared to handle client queries.
Customer Self-Service Benefits
IVR can keep customers pleased while help desk personnel are unavailable. Your phone number and IVR menu will let callers access basic facts even while you're closed or busy. It's like the perfect voicemail, except it anticipates consumer requirements and gives answers before they call.
Good menu design addresses customer issues. IVR software helps operators manage more difficult inquiries by processing simpler ones on their own.
Setting up an IVR doesn't necessitate sacrificing personalization for speed. Modern IVRs use biometrics to identify and reply to customer numbers. Callers may make appointments and wish them happy birthdays without speaking to a human.
No matter how advanced IVR calling systems get, customers will always prefer a human. Wrong. 83 percent of customers would prefer complete regular transactions alone, such as checking in for a flight, tracking a shipment, or checking account balances. IVR can accomplish all of this and more. Using this consumer preference may boost your company. If you want pleased clients, include answers to their most common questions to your cloud phone menu.
Know more, save more
Your company's existence depends on customer data. Having customers use a computer may increase your business's productivity and customer service. Your IVR may use client inquiries to improve future service and guide business choices. IVR calling systems can undertake market research instead of adding personnel. IVRs save expenses and save time.
Wrapping It Up
If you are on the lookout for an IVR calling system on which your business can completely rely, then Office24by7 is the one. For more details give us a call at +91 7097171717.
Article source: https://article-realm.com/article/Food-Beverage/30374-How-does-an-IVR-Service-Provider-Work.html
Comments
No comments have been left here yet. Be the first who will do it.
Statistics
Publishing
Articles:
50,573
Categories:
202
Online
Active Users:
15935
Members:
505
Guests:
15430
Bots:
162056
Visits last 24h (live):
1339
Visits last 24h (bots):
14883

Administrator

,

leah li

,

ellyse perry

,

Flykhalifa

,

Devesh Guwal

,

Devid Won

,

Raj Sanghvi

,

lowes emily

,

elynaezza

,

lucas

,

Panchmukhi Train Ambulance Services

,

Extractohol

,

Healthcare News

,

Becky Joseph

,

AMpuesto India

,

miseryclary

,

Grow

,

Maria Brooks

,

Mark Taylor

,

Becky Joseph

,

Abhishek Singh

,

EZ Aircon Servicing

,

faraz pathan

,

Vedanta Air Ambulance

,

Aircon

,

Matt Easterlin

,

Harley Wilsom

,

yoona kim

,

Payal Rajput

,

Central Biohub

,

Mbbsinblog

,

Pooja Dhahiya

,

Pramod Kumar

,

Allan Dias

,

Veative Labs

,

Maxiom Law

,

Tim Wood

,

Kiran Beladiya

,

Artoon solutions

,

Nueva Cash

,

Loans Profit

,

Helen Clark

,

Quchange trading limited

,

Sarah Ferguson

,

Eliza Dorsey

,

mifitness

,

Andy

,

Nitesh Prasad

,

Nike Tech Suit

,

Dinesh Kumar

,

Aayan Ali

,

Reza Nikfar

,

Scoop Coupons

,

Eric Martin

,

Lahore Escorts

,

meds4gen

,

Tanzeel Obaid

,

meds4 gen1

,

chase.Liu

,

sanya roy

,

Company

,

Jonathan Zhang

,

Deepak Kumar

,

Snushuseu

,

Ganesh Remedies

,

matthew paulson

,

Andrew Wilson

,

ran viv

,

Marcel

,

Cetas Healthcare Ltd

,

Helen Ruth

,

Snushus

,

Peter Perker

,

Donnell Dean

,

Akshay Sharma

,

Canadian Cash Solutions

,

Integrative Systems

,

Call Girls in Lucknow

,

Kieu Thuy Hang

,

Vikas Chauhan

,

Sdreatech Private Limited

,

Ashwini Sharma

,

poojanegi

,

Fly Inate

,

mayurikathade

,

Alex Brown

,

Stephen Mundo

,

xacadox

,

hhcasdads

,

Zbranek & Holt Custom Homes

,

Henery Smith

,

Factory Direct Hot Tub

,

martin

,

Call Girls in Lucknow

,

matthew brain

,

John Parker

,

apevape

,

Alexander Martin

,

CRIF Dun and Bradstreet

,

Sachin Sengar

,

Richard Williams

,

Jignesh Jariwala

,

Tuxedo Dental Group

,

james mcgill

,

Wealth Elite

,

The Multifamily Mindset

,

Lucy Brudo

,

First Editing

,

kirti mospa

,

Mohammed Yusri

,

Amy Parker

,

Indomed Educare Pvt Ltd

,

Aishley Smith

,

Zivah ElectriVa Private Limited

,

Vtricambi

,

martech cubejohn

,

Kalyani Badkas

,

informative blog

,

noaman bhat

,

Lawson Sandy

,

Youth Destination

,

srikar

,

Ravelmovement

,

Myhomecargo

,

Softpulse Infotech

,

HCF Creative Force

,

GreenChopper

,

Mohit Singh

,

Tanja Filipovska

,

Fsh furniture

,

Aswain Medha

,

merleshay

,

manasi raviraj bandichode

,

Sarah Addyson

,

Charis Charalampous

,

Tina Das

,

May Sanders

,

Quickway Infosystems

,

Adam Taub

,

Hairxtensions.co.uk

,

REDVision Technologies Pvt. Ltd

,

Alice Perera

,

Alzbeta Berka

,

Smoothe Hemp

,

Delta 10 Cart

,

Johnson Piter

,

Noah Radford

,

Artoon Solutions

,

devinthapa

,

Vape Star Usa

,

Maria Smith
Articles Archive