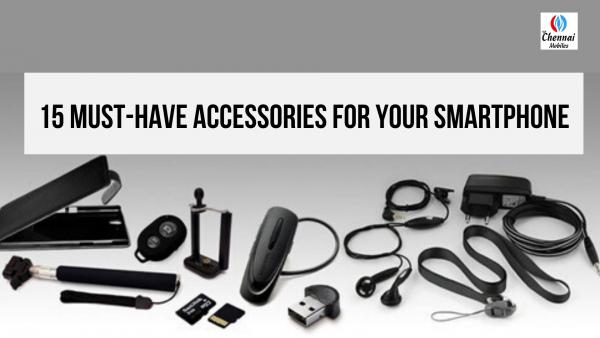 From phone cases to camera stands, there is a complete industry wholly working towards making your smartphone better. Making your smartphone smarter by additional attachments is a better way of taking care of your phone. Here is a list of accessories which you must practically have for your phone, for its better work and looks. All the accessories are easily available in any mobile shops near you in Chennai.
The very first thing is a screen protector. Screen protectors are a  thin, lightweight cover over your phone's screen which can avoid shattering or in simple words, we would be careful with our phones in the beginning. But, as time passes, we may drop our phone unknowingly. To prevent its screen from breaking, we must give it a protector. Also, in some cases, to replace the glass of the phone, it may take more money than it took to buy your phone!
Upgrade to one with an oleophobic coating to shield against stains and disordered fingerprints.
You got your screen's safety sorted. But, what about your phone as a whole? Besides the screen, your phone can break and cause you much worry. So, a phone case that lists safety over beauty will better shield your device from crashes, drops, and the usual dust that bide to the phone. For extra safeguards, look for a strong case and kindly avoid buying plastic cases available which are very flexible.
Next is a very important accessory but not available in every store in Chennai. It is the 'smart tags', which is a Bluetooth device. This is very useful as it helps to find your phone easily if it gets lost. Attaching it with a person's bag, you can track their movement too!
Stands are very important for a phone. We watch videos holding the phones in hand. Our hands start hurting after a long time. When we keep the phone in a stand, we can peacefully watch the videos from the phone, without hurting our hands and the phone!
Next is something, we all might have. A power bank. When we come out in a hurry, we may forget to charge our phone. So, a portable charger is a must just to keep the phone's battery intact.
Next is an underrated accessory. Holding your phone in your hand isn't an option as you weave your way through traffic. We know the difficulty to see maps when in a two-wheeler or four-wheeler. So, to hold your phone like it is placed in your hands, we have 'Portable Perks'.
It is very similar to portable perks. They are called bike mounts. With the same purpose.
Rapid phone chargers must be a new term for most of us. It is nothing but, the chargers that can boost up your battery's charge within a few minutes. This is very useful if you are in a hurry to go out and have no charge on your phone.
Wireless Bluetooth headphones are very important when you cannot always rely upon your normal headsets for talking. They are costly but most affordable yet great wireless headsets are available around the mobile shops in Chennai.
If you depend on GPS navigation or listen to audiobooks or podcasts while travelling, kitting your car with a USB phone charger keeps your battery topped up throughout the ride
Who doesn't wish to listen to loud music when you are hanging out! We wish for better music always and hence a portable 'Bluetooth speaker' is we need to buy.
The next four items are not the 'must-have' you should buy for your phone. They are a 'wallet case' for protecting your phone against minor drops and stains,'Lens attachment', mostly if you are a photographer and to capture wide angles, sceneries etc. Next up is a 'tripod'. This is also for photographic and videography purposes. The last one is probably a miscellaneous item but most of us might have. A selfie stick.
These are the most important items you need to have for your smartphone. Now, you may wonder, where can you find all these accessories in one place? The answer to this question is very simple for the residents of Chennai. With many years of experience in the business, 'The Chennai Mobiles' is the solution for all your queries regarding smartphones. The Chennai mobile is located in most parts of Tamil Nadu and has worked hard to gain the reputation and respect it has today.
To make your smartphone smarter, buy the necessary accessories without any delay from 'The Chennai Mobiles'.
Article source: https://article-realm.com/article/Computers-and-Technology/Mobile/6266-THE-15-MUST-HAVE-ACCESSORIES-FOR-YOUR-SMARTPHONE.html
Comments
No comments have been left here yet. Be the first who will do it.