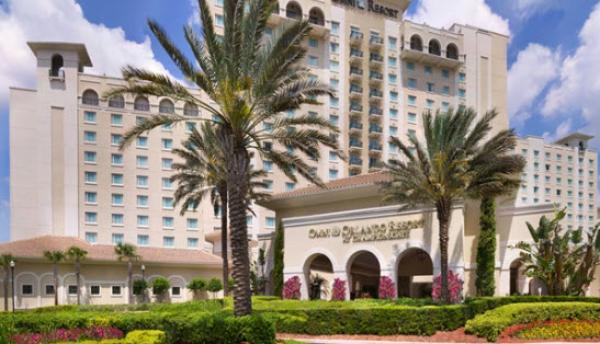 SelecTech, Inc., a leader in the manufacture of innovative flooring products with long-term value and immediate benefits, will literally have the floor at the 33rd annual meeting of the Scientific Equipment and Furniture Association (SEFA). SelecTech represents the only flooring company in SEFA, which boasts a membership of individuals and companies from all over the world.
The annual meeting takes place November 9-11 at the Omni Hotel Championsgate in Orlando, Florida. SelecTech will exhibit and participate in a meeting of the Flooring committee. SelecTech President Tom Ricciardelli chairs the committee.
"Over the past few years, we have been developing test standards for lab flooring. Currently, none exist. That makes it difficult for facility owners and lab managers to select flooring that meets the needs of their lab," said Ricciardelli. "At the annual meeting, the committee will meet to continue developing these standards."
For its lab and cleanroom clients, SelecTech offers its PolyStyle resinous flooring, GroundFloor sheet flooring, and its FreeStyle BioLock product. With its patented interlocking feature, BioLock can be customized for use in hospitals, cleanrooms and labs. Ideal for renovation projects, BioLock eliminates the need for costly floor replacement and downtime.
BioLock also utilizes a water-proof seam sealer that makes tiles liquid-tight but still removable and replaceable. This is a critical feature when you consider that some labs might be using chemicals that could be damaging if spilled and seeps into flooring. This is particularly important to protect the wiring and plumbing that are often underneath a lab's floor.
Additionally, most medical centers and hospitals house data centers with expensive computer equipment and servers. SelecTech also offers all of its products in ESD versions, which are used by a number of facilities with more expensive electronics to reduce static electricity discharge.
 
"A number of the facilities we've worked with over the years use access flooring. This type of floor provides some flexibility should the facility need to accommodate growth or transfigurations. Our interlocking flooring—available in both FreeStyle and StaticStop lines--can be moved from one location to another and easily reinstalled," said Ricciardelli.
Made with 70 percent recycled materials and 100 percent recyclable, SelecTech flooring products meet CA 1350 Indoor Air Quality and is MAS Certified Green.
To request a sample of SelecTech flooring products or to learn more about the medical facilities uses for SelecTech products, please call 508-583-3200 or visit www.selectechinc.com.
For more information on SEFA and the annual meeting, visit www.sefalabs.org.
Article source: https://article-realm.com/article/Computers/30377-SelecTech-has-The-Floor-at-SEFA-Annual-Meeting.html
Comments
No comments have been left here yet. Be the first who will do it.
Statistics
Publishing
Articles:
50,573
Categories:
202
Online
Active Users:
16050
Members:
512
Guests:
15538
Bots:
163089
Visits last 24h (live):
1367
Visits last 24h (bots):
15057

Administrator

,

leah li

,

ellyse perry

,

Flykhalifa

,

Devesh Guwal

,

Devid Won

,

Raj Sanghvi

,

lowes emily

,

elynaezza

,

lucas

,

Panchmukhi Train Ambulance Services

,

William Smith

,

Extractohol

,

askaccountings

,

Aircon

,

Hemant Kumar

,

Tim Wood

,

Kiran Beladiya

,

Healthcare News

,

Becky Joseph

,

AMpuesto India

,

miseryclary

,

Grow

,

Maria Brooks

,

Mark Taylor

,

Becky Joseph

,

Abhishek Singh

,

EZ Aircon Servicing

,

faraz pathan

,

Vedanta Air Ambulance

,

Matt Easterlin

,

Harley Wilsom

,

yoona kim

,

Payal Rajput

,

Central Biohub

,

Mbbsinblog

,

Pooja Dhahiya

,

Pramod Kumar

,

Allan Dias

,

Veative Labs

,

Maxiom Law

,

Artoon solutions

,

Nueva Cash

,

Loans Profit

,

Helen Clark

,

Quchange trading limited

,

Sarah Ferguson

,

Eliza Dorsey

,

mifitness

,

Andy

,

Nitesh Prasad

,

Nike Tech Suit

,

Dinesh Kumar

,

Aayan Ali

,

Reza Nikfar

,

Scoop Coupons

,

Eric Martin

,

Lahore Escorts

,

meds4gen

,

Tanzeel Obaid

,

meds4 gen1

,

chase.Liu

,

sanya roy

,

Company

,

Jonathan Zhang

,

Deepak Kumar

,

Snushuseu

,

Ganesh Remedies

,

matthew paulson

,

Andrew Wilson

,

ran viv

,

Marcel

,

Cetas Healthcare Ltd

,

Helen Ruth

,

Snushus

,

Peter Perker

,

Donnell Dean

,

Akshay Sharma

,

Canadian Cash Solutions

,

Integrative Systems

,

Call Girls in Lucknow

,

Kieu Thuy Hang

,

Vikas Chauhan

,

Sdreatech Private Limited

,

Ashwini Sharma

,

poojanegi

,

Fly Inate

,

mayurikathade

,

Alex Brown

,

Stephen Mundo

,

xacadox

,

hhcasdads

,

Zbranek & Holt Custom Homes

,

Henery Smith

,

Factory Direct Hot Tub

,

martin

,

Call Girls in Lucknow

,

matthew brain

,

John Parker

,

apevape

,

Alexander Martin

,

CRIF Dun and Bradstreet

,

Sachin Sengar

,

Richard Williams

,

Jignesh Jariwala

,

Tuxedo Dental Group

,

james mcgill

,

Wealth Elite

,

The Multifamily Mindset

,

Lucy Brudo

,

First Editing

,

kirti mospa

,

Mohammed Yusri

,

Amy Parker

,

Indomed Educare Pvt Ltd

,

Aishley Smith

,

Zivah ElectriVa Private Limited

,

Vtricambi

,

martech cubejohn

,

Kalyani Badkas

,

informative blog

,

noaman bhat

,

Lawson Sandy

,

Youth Destination

,

srikar

,

Ravelmovement

,

Myhomecargo

,

Softpulse Infotech

,

HCF Creative Force

,

GreenChopper

,

Mohit Singh

,

Tanja Filipovska

,

Fsh furniture

,

Aswain Medha

,

merleshay

,

manasi raviraj bandichode

,

Sarah Addyson

,

Charis Charalampous

,

Tina Das

,

May Sanders

,

Quickway Infosystems

,

Adam Taub

,

Hairxtensions.co.uk

,

REDVision Technologies Pvt. Ltd

,

Alice Perera

,

Alzbeta Berka

,

Smoothe Hemp

,

Delta 10 Cart

,

Johnson Piter

,

Noah Radford

,

Artoon Solutions

,

devinthapa

,

Vape Star Usa

,

Maria Smith
Articles Archive