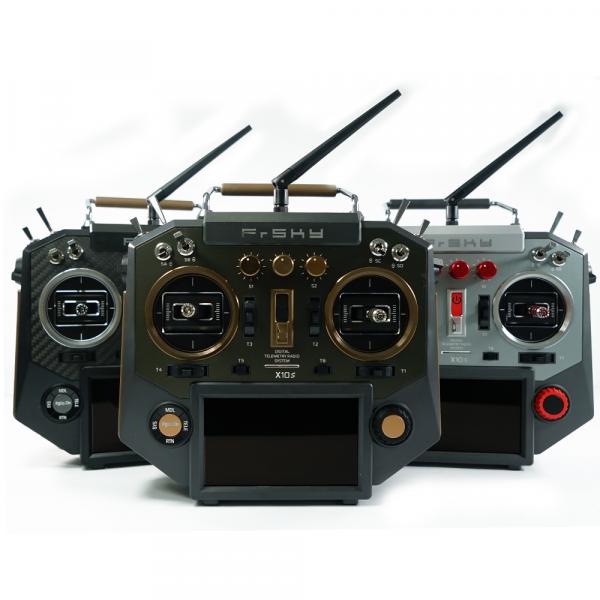 If you want to build your own RC toy setup, you will need a reliable radio control transmitter. And finding a solid RC transmitter is not easy, especially when there are so many options available out there. We have covered several RC toys on our blog already, and now it's time to find out which FrSky RC transmitters are available right now.
So, are you ready to explore the best RC radio transmitters from FrSky? Check these out below.
Horus X10S

Horus X10S is the latest FrSky transmitter that includes all the best features of X10 along with some significant new improvements. For instance, it comes with MC12 gimbals to deliver an enhanced flying experience. The device contains a dedicated iXJT+ module to ensure a smooth RF performance and to reduce the latency. There are two internal antennas along with a detachable antenna to establish a stronger connection.
X10S is provided with a full-color screen that remains perfectly visible even in broad daylight. Its wireless trainer system will come in handy for the beginners, while the free Link App will let you control the transmitter from your iPhone.
The default settings will allow you to store up to 60 models, while you can save more models by using an external memory card. The device also supports all regular 3.5mm headphones. You can choose carbon fiber, silver, or amber as the transmitter panel.
Horus X10

Horus X10 is one of the most feature-rich RC transmitters ever produced by FrSky. Drawing inspiration from the previously successful models like the X9D and X12S, the device comes with a detachable antenna to ensure better portability. The industrial LCD screen will help you to use the navigation menu and check out the current session details even under direct sunlight.
As the device runs on FrSky's unique operating system, you will enjoy a great user experience. Thanks to the dual-antenna setup and the improved battery life, you can expect a better performance from the device. The device features an integrated iXJT+ transmitter, while it is also possible to use other transmitting modules. Audible speech alerts will let you know about the alarms and settings changes.
You will find all the usual ports including the mini USB, 3.5mm headphone jack, and the microSD card slot. The package comes with a neck strap, wall adapter, FCX10 LiON charger, and the necessary stick protectors.
Taranis Q X7S

As the name suggests, this is an upgraded version of the highly popular Taranis Q X7. It features improved ball bearing hall sensor gimbals along with two knobs and six upgraded switches. As it runs on OpenTX, you can easily share files with the other supported models. You will find a dedicated wheel and center buttons to navigate through the colorful menu. Thanks to the USB port and the microSD card slot, you can easily connect the device to your computer and expand the onboard memory. There is an integrated vibration feedback system to complement the voice and sound warnings. Other notable features include the trainer port, audio output, and real-time data logging.
Taranis X9D Plus SE

Continuing with the tradition from its predecessor, Taranis X9D Plus SE also features a highly affordable price. The device takes advantage of the proprietary ACCST technology to deliver a reliable overall performance. As the transmitter comes with the high-end M9 gimbals, you will be amazed at the smoothness and accuracy levels offered by the X9D Plus SE. You can choose any of the four water transfer shell artwork skins to make your radio look unique.
Taranis Q X7

Taranis Q X7 is a highly powerful RC transmitter developed by FrSky. The lightweight device is available in both black and white color schemes. Its smooth ball bearing gimbals will deliver reliable performance, while the voice, sound, and vibration alerts will let you know about the warnings. The 16-channel radio offers full support for OpenTX, making it possible to share the data with X9D and other supported models. You can use the microSD card slot and the USB port to expand the memory and adjust various settings. Q X7 also comes with full telemetry capability with instant flight data logging.
Taranis X9D Plus

If you are looking for an affordable RC transmitter that offers reliable performance, Taranis X9D Plus should be one of your top choices. The device utilizes FrSky's frequency hopping ACCST technology to take full advantage of the 2.4GHz brand, which means the transmitter will maintain a reliable connection with the receiver all the time. You can rotate and adjust the antenna to ensure the best reception. As the device features full RSSI support, you will receive alerts when the signal becomes weak so that you can bring back the toy to safety.
Horus X12S

This is the most powerful radio transmitter offered by FrSky right now. This flagship device is provided with premium quality gimbals, switches, pots, and other components. The full-color LCD display will make it a lot easier to use the intuitive UI system. Full telemetry support with real-time data logging will keep you in control, while the integrated GPS and six-axis sensors will help you maintain the proper course. As the device features six position encoders, switching flight modes is really easy. The transmitter comes with a hard case, which means you can carry it wherever you go.
Taranis X9E

Taranis X9E is another highly popular FrSky RC transmitter that offers a unique combination of power and features in the same package. Its top-mounted OLED display will provide detailed telemetry data, while the improved gimbals will offer significantly better control. There are dedicated buttons and a rotary encoder to help you navigate through the user interface. It is possible to expand the radio by adding more switches and pots. Other notable features include ACCST support, receiver lock, voice and sound alerts, dedicated power switch along with USB and SD card slots.
Final Words
Having fun with your RC toys depends mainly on having a suitable transmitter. Now that you have read this post, you know which the best FrSky RC transmitters are. So, which one are you going to pick up? Let me know in the comments below.
Article source: https://article-realm.com/article/Computers/Data-Recovery/8002-8-Best-FrSky-RC-transmitters-to-get-the-most-fun-from-your-RC-toys.html
Comments
No comments have been left here yet. Be the first who will do it.