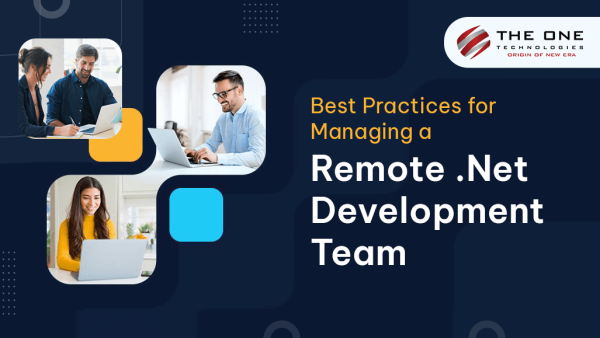 Businesses have already started expanding their operations internationally. More than 40% of companies report increasing full-time employees working remotely from different countries. Around 70% of companies permit remote work permanently, so the work-from-home setup is becoming the new norm nowadays. Also, you'll be surprised to know that many top giants such as Google, Microsoft, and Amazon have already adopted remote work, successfully maintained their operations, and seen an increase in employee productivity.
Many new technologies have emerged, but the popularity of .Net development is constantly growing. Hiring a remote .Net development team indeed brings many advantages, from cost-effectiveness to a performance boost. However, managing a remote team of developers is challenging as it presents unique challenges that vary from operating an onsite development team.
With our 10+ years of experience as an outsourcing company, we're eager to share our hard-earned knowledge with you all. In this article, we will discuss the best practices for effectively managing a remote .Net development team and how to stay updated with the latest remote team management trends.
So, without any further ado, let's get started!
Best Practices to Manage a Remote .Net Development Team Effectively
Set Clear Expectations
The first and foremost thing to consider while managing a remote .Net development team is to set work expectations from the initial stage. If you neglect investing efforts and time in establishing your expectations, then this can be your biggest managerial mistake. To avoid such a scenario, set well-defined objectives and clearly define your development team's expectations, including project goals, processes, work goals, hours, and deadlines. Also, make sure that every team member knows what is expected from them and how their work contributes to the team's overall success.
This clarity helps the development team to understand their roles and responsibilities and stay focused.
Establish Clear Communication
According to a Survey, more than 95% of employees believe a lack of sync within a remote team impacts the outcome.
Communication is the key to a successful remote work culture that can clear up concerning expectations and effectively manage a remote .Net development team. Communicate every possible detail to keep your team members on the same page. Use various communication tools to stay in touch with your team and leverage tools' full potential when it comes to remote setups.
Leveraging Agile Methodology
Embracing the agile approach and boosting the working process allows developers to build products and adjust based on market feedback. Use project management tools to improve productivity, flexibility, and collaboration in remote teams. This practice helps remote teams to manage their work, maintain a strong team culture, and adapt to changes effectively.
Manage time-zone differences
Time management becomes crucial when you opt for a remote team of developers. To maintain productivity, allow your team members to work flexibly rather than expecting around-the-clock availability. Some project managers neglect this aspect but consider time-zone differences and communicate accordingly to keep your remote team focused.
Building a Strong Team Spirit
When you hire ASP.NET developer who works remotely, creating a strong team spirit among distributed teams is important to enhance productivity and maintain collaboration and motivation. To build a cohesive remote development team, involve team members in decision-making, maintain transparency, share company updates, and consider their opinions. Also, let your team members communicate openly using collaboration platforms such as code-sharing tools, project management software, and video conferencing apps. This will allow your team members to share their ideas, support each other, and help overcome challenges (if any).
Offer Consistent Support
Support is one of the most important factors to consider if you have a dedicated development team working remotely. Your team members may be out of sight but shouldn't be out of mind. Problems related to a project or workflow are common, and as a manager, you should always take a step to understand the clues and offer consistent support to help them. Ensure all your remote developers can access the resources they need to succeed in their roles. However, you are responsible for providing support, maintaining relations with them, and making your team members realize you care about them.
Reward & Recognition
Maintaining a positive team spirit and motivating your team is important when managing a remote development team. Remote developers tend to feel isolated, and to avoid this, appreciate your team members' hard work. Whenever remote developer gets positive feedback, it increases their productivity and encourages them to stay focused.
Final Thoughts
Undoubtedly, a remote development team has its own challenges, and to overcome these challenges, adhere to the best practices mentioned in the preceding section to keep your remote team focused and efficient.
To conclude, if you plan to hand over your upcoming project to a dedicated development company, hire .net developers from The One Technologies and get the desired outcome. We have a team of productive remote developers who will help you achieve your company's vision in the shortest time possible. So, what are you waiting for? Go and start your development journey now! :-)
Article source: https://article-realm.com/article/Computers/Mobile/49634-Best-Practices-for-Managing-a-Remote-Net-Development-Team.html
Comments
No comments have been left here yet. Be the first who will do it.