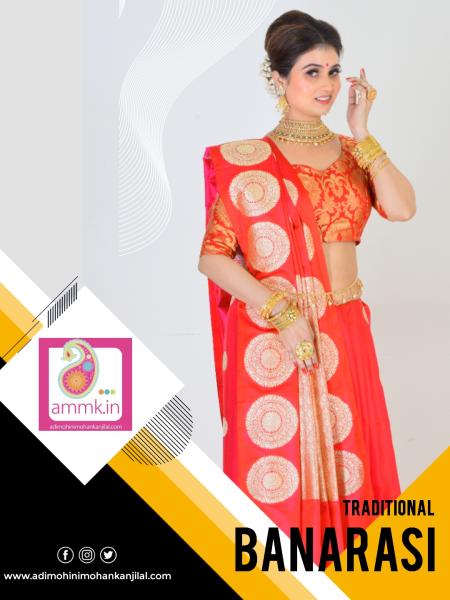 India is a country of diverse cultures, traditions, and religions. Festivals and celebrations are an integral part of Indian culture. One of the most essential parts of any celebration or event in India is the traditional attire. And when it comes to traditional attire, sarees are undoubtedly the most popular choice among Indian women. Among all the sarees available in India, Benarasi sarees hold a special place. They are considered to be one of the most luxurious and exquisite sarees in India, and they are particularly popular during any festivities. In this blog, we will explore the reasons behind the popularity of Benarasi sarees in India.
The history of Benarasi sarees dates back to the Mughal era when the weavers from Persia migrated to India and settled in the city of Varanasi. They brought with them the art of weaving silk and brocade fabrics. Over the years, the weavers of Benarasi sarees have perfected their art, and today, Benarasi sarees are known for their intricate designs, stunning colors, and fine craftsmanship. The rich heritage and the history behind the creation of Benarasi sarees make them special and unique.
One of the primary reasons why Benarasi sarees are so popular in India for any festivities is because of their luxurious and elegant look. These sarees are made of high-quality silk and are embellished with intricate zari work, which makes them look incredibly rich and elegant. The intricate designs and the use of fine silk and zari make these sarees perfect for any festive occasion.
Another reason behind the popularity of Benarasi sarees in India is the fact that they are incredibly versatile. They come in a wide variety of colors, designs, and patterns, making it easy for women to choose a saree that suits their personal style and preferences. Whether it is a wedding, festival, or any other celebration, there is a Benarasi saree for every occasion.
The popularity of Benarasi sarees is not just limited to India; they are also in demand in other countries. The intricate designs and exquisite craftsmanship of Benarasi sarees have made them a popular choice among women all over the world. In fact, many designers have also started creating their own versions of Benarasi sarees, which has helped to increase their popularity even further.
In conclusion, Benarasi sarees are an important aspect of Indian culture and fashion, and they hold a special place in the hearts of Indian women. Their intricate designs, luxurious fabrics, and versatile nature make them the perfect choice for any festive occasion. And among the many brands that create these exquisite sarees, ADI MOHINI MOHAN KANJILAL stands out for their commitment to quality, tradition, and innovation. Their Benarasi sarees are a true representation of the rich cultural heritage of India, and they continue to inspire and delight women across the globe. So, if you're looking to add a touch of elegance and tradition to your wardrobe, a Benarasi saree from ADI MOHINI MOHAN KANJILAL is definitely worth considering.
Article source: https://article-realm.com/article/Environment/Agriculture/43587-Why-Benarasi-Saree-is-So-Popular-in-India-for-Any-Festivities.html
Comments
No comments have been left here yet. Be the first who will do it.