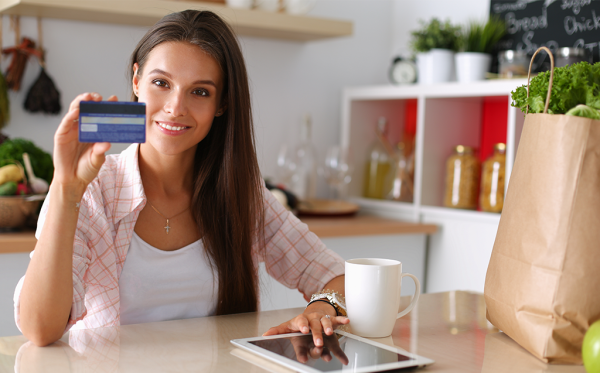 Do you have any recurring payments or want to purchase something without using your credit card? If you have essential weekly or monthly expenses, or several large purchases, a line of credit can help. 
A line of credit provides you access to flexible funds to consolidate debt. You can use either a maximum or minimum amount of the line of credit. Plus, you only need to pay interest on the amount you use from the line of credit. 
Talking about the rate of interest, lines of credit mostly have different interest rates based on the prime rate. If the prime rate rises, your interest rate on the line of credit will rise too. A secured line of credit means that you put up an asset as collateral in case you're unable to pay back what you have borrowed.
What is a secured line of credit?
Secured lines of credit offer you the liberty to borrow cash according to your requirement. The best part is that you only have to pay interest on the amount you use. Much like a credit card, your secured line of credit will have a credit limit — the most you can borrow at a time. 
Mostly, secured lines of credit have two phases: the draw phase and the repayment phase. During the draw phase of your secured line of credit, you can take a loan and make monthly payments with interest. 
After entering the repayment phase, you won't be able to withdraw the loan amount. During this phase, you pay the principal amount and interest for a fixed period until you pay off the entire loan.
A secured line of credit means there is an asset to secure the loan, known as collateral. Collateral should have some value to the lender should you fail to repay the line of credit. When banks set your interest rate, other factors besides your credit scores come into play. It includes your credit history and income. Since assets put up against the line of credit reduce the lender's risk, these work with a range of credit histories.
Two common types of secured lines of credit cater to different borrower types: personal lines of credit and business lines of credit.
1. Personal line of credit:
Anyone can apply for a personal line of credit to manage urgent financial needs such as educational requirements or medical emergencies. And, if you own a house, you can get a personal line of credit against the value of your house.
For instance, a home equity line of credit (HELOC) is the most commonly used personal line of credit that a homeowner can use. A HELOC gives you access to cash based on the value of your house. This value is calculated after excluding any loans against your house. 
2. Business line of credit:
This type of credit allows you to borrow a particular amount and pay interest on that. It's almost similar to a credit card. Financial assets, mutual funds, and fixed deposits generally secure these loans. 
Under this secured business line of credit, the borrower needs to put up some business assets as collateral. The financer can ask the business owner to pledge assets as collateral, which may include accounts receivables, financial assets, business equipment, and real estate. In case, the business owner fails to pay the amount borrowed, the lender can liquidate the collateral pledges to recover the dues.
What are the pros of a secured line of credit?
* Since collateral supports the secured line of credit, it is much easier to apply for this loan. You don't need the best credit score to qualify as long as you have assets to put up against the loan.
* In fact, lenders may not even care to ask you about your credit score in this case. With a secured line of credit, your assets lower risks. Since you wouldn't want to lose the property of assets tied to your secured loan, you are likely to do your best to repay the loan.
* Perhaps, the other essential benefit of secured loans is that they mostly have low-interest rates. Lenders evaluate the risks when setting interest rates, which increase based on the risk factors. 
* Lenders face low risk as the secured line of credit has collateral support. Due to lower risk, lenders can offer more reasonable interest rates on loans.
* Less risk not only helps in reducing interest rates but also getting longer repayment terms for the lines of credit.
* In some scenarios, lenders can offer a repayment duration of ten years. In most cases, a property works as collateral. Lenders can rely on rising real estate prices to cover their loan value.
What are the cons of a secured line of credit?
* Since you can secure your loan with an asset, you must have valuable assets. Primarily, they include property or real estate and valuable assets like equipment, invoices, and inventory to secure the line of credit. 
* The credit limit for a secured line of credit may be lesser than that of a business loan. However, compared to the amount of a business loan, it's much lower. 
* You need collateral to get a secured loan and present assets to guarantee the lender will possess them until you repay.
* If you're unable to repay your loan amount, you're likely to lose the asset tied to your line of credit. It's best to use an asset as a backup that is not so important if your lender seizes it. 
* For instance, securing your line of credit with business property and facilities may be better than using your house. After all, you may not need the business property anymore if you decide to close your business. However, whether you run your business or not, you'll always need a roof over your head!
* Beware of different interest rates as there may be variable rates. Make sure you understand all the terms of your secured line of credit before applying for one. 
The bottom line
Now you know that there are many benefits to secured lines of credit. However, along with some advantages, there are a few drawbacks as well. A secured line of credit could be a great option if you're interested in business financing. 
It's important to keep in mind that you should only take out the required amount so that you don't put your business's assets at risk. 
However, if you don't want to put up any collateral against a loan, you still have an option out there that's less complicated. 
You can apply for a microloan using a trusted app that lends money.
Microlending platforms like Lendee allow borrowers to raise loan requests and get help from a pool of investors fast. 
Leave your credit score worries aside with the best money-borrowing app. When you borrow a microloan on Lendee, you get to improve your credit score by making timely payments.
Download the Lendee app now and experience financing that's more flexible and innovative than banks!
Article source: https://article-realm.com/article/Fashion/Runway/33057-What-Is-a-Secured-Line-of-Credit-and-What-Are-Its-Pros-and-Cons.html
Comments
No comments have been left here yet. Be the first who will do it.
Statistics
Publishing
Articles:
50,573
Categories:
202
Online
Active Users:
16051
Members:
512
Guests:
15539
Bots:
163128
Visits last 24h (live):
1355
Visits last 24h (bots):
15062

Administrator

,

leah li

,

ellyse perry

,

Flykhalifa

,

Devesh Guwal

,

Devid Won

,

Raj Sanghvi

,

lowes emily

,

elynaezza

,

lucas

,

Panchmukhi Train Ambulance Services

,

William Smith

,

Extractohol

,

askaccountings

,

Aircon

,

Hemant Kumar

,

Tim Wood

,

Kiran Beladiya

,

Healthcare News

,

Becky Joseph

,

AMpuesto India

,

miseryclary

,

Grow

,

Maria Brooks

,

Mark Taylor

,

Becky Joseph

,

Abhishek Singh

,

EZ Aircon Servicing

,

faraz pathan

,

Vedanta Air Ambulance

,

Matt Easterlin

,

Harley Wilsom

,

yoona kim

,

Payal Rajput

,

Central Biohub

,

Mbbsinblog

,

Pooja Dhahiya

,

Pramod Kumar

,

Allan Dias

,

Veative Labs

,

Maxiom Law

,

Artoon solutions

,

Nueva Cash

,

Loans Profit

,

Helen Clark

,

Quchange trading limited

,

Sarah Ferguson

,

Eliza Dorsey

,

mifitness

,

Andy

,

Nitesh Prasad

,

Nike Tech Suit

,

Dinesh Kumar

,

Aayan Ali

,

Reza Nikfar

,

Scoop Coupons

,

Eric Martin

,

Lahore Escorts

,

meds4gen

,

Tanzeel Obaid

,

meds4 gen1

,

chase.Liu

,

sanya roy

,

Company

,

Jonathan Zhang

,

Deepak Kumar

,

Snushuseu

,

Ganesh Remedies

,

matthew paulson

,

Andrew Wilson

,

ran viv

,

Marcel

,

Cetas Healthcare Ltd

,

Helen Ruth

,

Snushus

,

Peter Perker

,

Donnell Dean

,

Akshay Sharma

,

Canadian Cash Solutions

,

Integrative Systems

,

Call Girls in Lucknow

,

Kieu Thuy Hang

,

Vikas Chauhan

,

Sdreatech Private Limited

,

Ashwini Sharma

,

poojanegi

,

Fly Inate

,

mayurikathade

,

Alex Brown

,

Stephen Mundo

,

xacadox

,

hhcasdads

,

Zbranek & Holt Custom Homes

,

Henery Smith

,

Factory Direct Hot Tub

,

martin

,

Call Girls in Lucknow

,

matthew brain

,

John Parker

,

apevape

,

Alexander Martin

,

CRIF Dun and Bradstreet

,

Sachin Sengar

,

Richard Williams

,

Jignesh Jariwala

,

Tuxedo Dental Group

,

james mcgill

,

Wealth Elite

,

The Multifamily Mindset

,

Lucy Brudo

,

First Editing

,

kirti mospa

,

Mohammed Yusri

,

Amy Parker

,

Indomed Educare Pvt Ltd

,

Aishley Smith

,

Zivah ElectriVa Private Limited

,

Vtricambi

,

martech cubejohn

,

Kalyani Badkas

,

informative blog

,

noaman bhat

,

Lawson Sandy

,

Youth Destination

,

srikar

,

Ravelmovement

,

Myhomecargo

,

Softpulse Infotech

,

HCF Creative Force

,

GreenChopper

,

Mohit Singh

,

Tanja Filipovska

,

Fsh furniture

,

Aswain Medha

,

merleshay

,

manasi raviraj bandichode

,

Sarah Addyson

,

Charis Charalampous

,

Tina Das

,

May Sanders

,

Quickway Infosystems

,

Adam Taub

,

Hairxtensions.co.uk

,

REDVision Technologies Pvt. Ltd

,

Alice Perera

,

Alzbeta Berka

,

Smoothe Hemp

,

Delta 10 Cart

,

Johnson Piter

,

Noah Radford

,

Artoon Solutions

,

devinthapa

,

Vape Star Usa

,

Maria Smith
Articles Archive