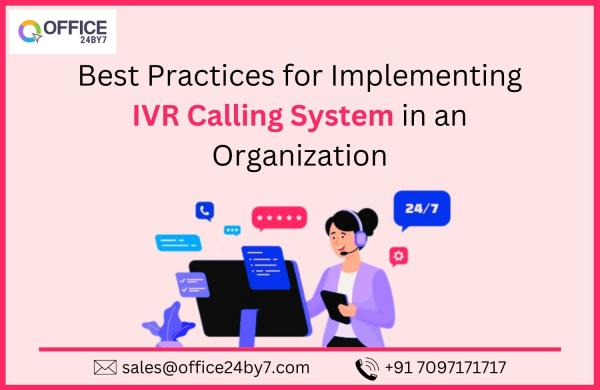 An IVR (Interactive Voice Response) calling system is a valuable tool for organizations to improve customer service and reduce operational costs. However, implementing an IVR system can be challenging, especially if the organization is not familiar with the best practices for doing so. To ensure a successful implementation, it's essential to define your goals, keep the system simple, personalize the experience, thoroughly test the system, provide options for human assistance, monitor performance, and continuously improve. This guide will provide more in-depth information on each of these best practices to help your organization successfully implement an IVR calling system.
Here are some best practices for implementing an IVR calling system in your organization:
1.Define your goals: 
Defining your goals is the first step towards implementing an effective IVR calling system. To do this, you need to identify what you hope to achieve with the system and what business problems you're trying to solve. For example, your goals might include improving customer service, reducing call volume to live agents, decreasing wait times for callers, or increasing the efficiency of your call center operations. Once you have identified your goals, you can begin to develop a strategy for how to design and implement the  IVR calling system. This strategy should take into account your organization's specific needs, as well as the needs and preferences of your customers. By defining your goals, you can create a system that is tailored to your organization's needs and that delivers the results you're looking for.
2.Keep it simple: 
When designing an  IVR calling system, it's important to keep it simple and easy to use. The goal is to make the system as intuitive as possible for callers to navigate, even if they are not tech-savvy. To achieve this, it's important to avoid complex menus or options that are difficult to understand. Instead, aim for a streamlined menu that offers only the most essential options.
The language used in the  IVR calling system should also be clear and concise. Avoid technical jargon or complicated phrases that could confuse callers. Use simple instructions to guide callers through the system, and make sure that each option is clearly labeled and easy to understand.
In addition to making the system easy to use, it's also important to make it efficient. This means minimizing the number of steps required to complete a transaction and ensuring that callers can quickly get the information they need. By keeping the  IVR calling system simple and efficient, you can provide a positive customer experience and reduce the likelihood of callers becoming frustrated or confused.
3.Personalize the experience: 
Personalization is a critical aspect of creating a positive customer experience. When designing an IVR software, it's important to use customer data to personalize the experience for each caller. This could involve addressing the caller by name, referencing their previous interactions with your organization, or providing personalized recommendations based on their purchase history.
Personalization can be achieved by integrating your IVR software with your customer database or CRM system. By doing so, you can access important customer information such as their name, account number, purchase history, and any previous interactions they've had with your organization. This information can then be used to provide a more personalized experience for the caller.
4.Test the system: 
Thoroughly testing the IVR software is a critical step in the implementation process. Before launching the system, it's essential to test every possible scenario and option to ensure that the system is functioning as expected. This includes testing both the system's functionality and its performance.
Functionality testing involves testing each option in the menu to ensure that it is working correctly. This involves testing the menu options, routing, and any prompts or instructions provided to the caller. It's important to test every possible scenario to identify any potential issues and ensure that the system is working as expected.
Performance testing involves testing the system's ability to handle a high volume of calls and transactions. This includes testing the system's response time, call routing, and the ability to handle multiple calls simultaneously. It's important to test the system under various load conditions to ensure that it can handle peak traffic without experiencing any issues or downtime.
5.Provide options for human assistance: 
While an IVR software can handle many customer interactions, there will be times when callers require human assistance. It's important to provide options for callers to speak with a live agent or transfer to a department that can assist them. This ensures that customers have the support they need and can receive assistance quickly and efficiently.
To provide options for human assistance, consider offering a "press 0" option or a dedicated menu option for live agent support. It's important to clearly communicate these options to callers and ensure that they are readily available throughout the IVR software.
In addition, it's important to ensure that callers who are transferred to a live agent are not required to repeat information they've already provided through the IVR system. This can be achieved through integration with your CRM or ticketing system, which allows live agents to access customer information and transaction history.
6.Monitor performance: 
Monitoring the performance of your IVR software is critical to ensure that it is meeting your goals and expectations. Regular monitoring allows you to identify any issues or inefficiencies in the system and make adjustments as needed. Here are some key metrics to monitor:
Call Volume: Tracking call volume can help you identify peak traffic periods and ensure that the system can handle high call volumes without experiencing downtime or delays.

Call Duration: Tracking call duration can help you identify any inefficiencies in the system and identify areas for improvement. It can also help you assess the effectiveness of your prompts and menu options.

Call Abandonment Rate: The call abandonment rate measures the percentage of callers who hang up before reaching their desired destination. A high abandonment rate could indicate issues with the IVR system's menu options or routing.

First Call Resolution Rate: The first call resolution rate measures the percentage of calls that are resolved on the first call without the need for follow-up. A high first call resolution rate indicates an efficient and effective IVR system.

Customer Satisfaction: Customer satisfaction is a key metric to track, as it measures how satisfied callers are with their experience using the IVR system. Regular customer surveys or feedback mechanisms can help you assess customer satisfaction.
7.Continuously improve: 
Continuous improvement is essential for the best IVR service provider in India, as customer needs and expectations can change over time. Regularly reviewing customer feedback and performance data can help you identify areas for improvement and make updates as necessary to ensure the system is meeting your organization's needs.
One effective way to gather customer feedback is through regular surveys or feedback mechanisms, which can provide valuable insights into customer satisfaction and areas for improvement. Additionally, analyzing call recordings or conducting usability testing can help you identify any issues or inefficiencies in the IVR system's design or functionality.
Once you've identified areas for improvement, consider implementing A/B testing or pilot programs to test new features or menu options before rolling them out to all callers. This can help you gauge the effectiveness of new features or options and make adjustments as necessary before full implementation.
Wrapping it up
Choosing the right IVR system and setting it up is a crucial step for any business looking to improve its IVR calling systems. It's important to keep in mind that it's not a one-time process and requires regular reviews and updates. This is where the expertise of a best IVR service provider like Office24by7 comes in.
Office24by7 experts are well-versed in the latest call center technology and know how to make the most of IVR systems. They can help increase the efficiency of your business and improve existing practices.
If you're interested to know more about how Office24by7 can help your business optimize its IVR software operations, give them a call at +91 7097171717 or drop an email at sales@office24by7.com. They are always happy to answer any questions and provide more information on their services.
Article source: https://article-realm.com/article/Finance/42170-Best-Practices-for-Implementing-IVR-Calling-System-in-an-Organization.html
Comments
No comments have been left here yet. Be the first who will do it.
Statistics
Publishing
Articles:
50,573
Categories:
202
Online
Active Users:
16932
Members:
542
Guests:
16390
Bots:
171523
Visits last 24h (live):
1464
Visits last 24h (bots):
14418

Administrator

,

leah li

,

ellyse perry

,

Flykhalifa

,

Devesh Guwal

,

Devid Won

,

Raj Sanghvi

,

lowes emily

,

elynaezza

,

lucas

,

Panchmukhi Train Ambulance Services

,

William Smith

,

Extractohol

,

askaccountings

,

Aircon

,

Hemant Kumar

,

martin

,

Joy Andella

,

ran viv

,

Andy

,

Dinesh Kumar

,

Louis Howard

,

Aiza Graves

,

karandeep singh

,

Emma James

,

Pooja Dhahiya

,

Bellot Twig

,

Rick Martin

,

faraz pathan

,

Sagar

,

Abhishek Singh

,

Vedanta Air Ambulance

,

Tim Wood

,

Fly Inate

,

Alexander Martin

,

Mark Liu

,

Clarence Godin

,

martech cubejohn

,

Kiran Beladiya

,

Healthcare News

,

Becky Joseph

,

AMpuesto India

,

miseryclary

,

Grow

,

Maria Brooks

,

Mark Taylor

,

Becky Joseph

,

EZ Aircon Servicing

,

Matt Easterlin

,

Harley Wilsom

,

yoona kim

,

Payal Rajput

,

Central Biohub

,

Mbbsinblog

,

Pramod Kumar

,

Allan Dias

,

Veative Labs

,

Maxiom Law

,

Artoon solutions

,

Nueva Cash

,

Loans Profit

,

Helen Clark

,

Quchange trading limited

,

Sarah Ferguson

,

Eliza Dorsey

,

mifitness

,

Nitesh Prasad

,

Nike Tech Suit

,

Aayan Ali

,

Reza Nikfar

,

Scoop Coupons

,

Eric Martin

,

Lahore Escorts

,

meds4gen

,

Tanzeel Obaid

,

meds4 gen1

,

chase.Liu

,

sanya roy

,

Company

,

Jonathan Zhang

,

Deepak Kumar

,

Snushuseu

,

Ganesh Remedies

,

matthew paulson

,

Andrew Wilson

,

Marcel

,

Cetas Healthcare Ltd

,

Helen Ruth

,

Snushus

,

Peter Perker

,

Donnell Dean

,

Akshay Sharma

,

Canadian Cash Solutions

,

Integrative Systems

,

Call Girls in Lucknow

,

Kieu Thuy Hang

,

Vikas Chauhan

,

Sdreatech Private Limited

,

Ashwini Sharma

,

poojanegi

,

mayurikathade

,

Alex Brown

,

Stephen Mundo

,

xacadox

,

hhcasdads

,

Zbranek & Holt Custom Homes

,

Henery Smith

,

Factory Direct Hot Tub

,

Call Girls in Lucknow

,

matthew brain

,

John Parker

,

apevape

,

CRIF Dun and Bradstreet

,

Sachin Sengar

,

Richard Williams

,

Jignesh Jariwala

,

Tuxedo Dental Group

,

james mcgill

,

Wealth Elite

,

The Multifamily Mindset

,

Lucy Brudo

,

First Editing

,

kirti mospa

,

Mohammed Yusri

,

Amy Parker

,

Indomed Educare Pvt Ltd

,

Aishley Smith

,

Zivah ElectriVa Private Limited

,

Vtricambi

,

Kalyani Badkas

,

informative blog

,

noaman bhat

,

Lawson Sandy

,

Youth Destination

,

srikar

,

Ravelmovement

,

Myhomecargo

,

Softpulse Infotech

,

HCF Creative Force

,

GreenChopper

,

Mohit Singh

,

Tanja Filipovska

,

Fsh furniture

,

Aswain Medha

,

merleshay

,

manasi raviraj bandichode

,

Sarah Addyson

,

Charis Charalampous

,

Tina Das

,

May Sanders

,

Quickway Infosystems

,

Adam Taub

,

Hairxtensions.co.uk

,

REDVision Technologies Pvt. Ltd

,

Alice Perera

,

Alzbeta Berka

,

Smoothe Hemp

,

Delta 10 Cart

,

Johnson Piter

,

Noah Radford

,

Artoon Solutions

,

devinthapa

,

Vape Star Usa

,

Maria Smith
Articles Archive