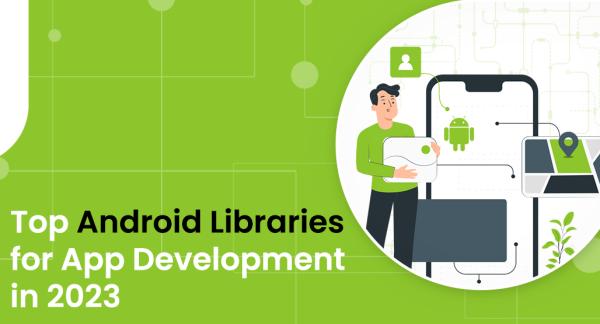 Mobile phones are changing the way users interact with different businesses and brands. Most internet users access their internet from mobile devices only. As you know, Android is the most popular mobile operating system, and it currently holds more than 1 million downloads monthly.
Android holds a massive global market value and share lead over iOS, and since digital solutions continue to play vital roles in the coming years, the number could only increase. With new libraries and frameworks, app development for Android has become easier and the demand for mobile apps and their development is rapidly increasing. 
If any Android app developer wants to go for advanced and optimized app development, seeking the help of libraries is a must for app success. Just use the simple steps involving Android libraries and you can build highly responsive apps with no bugs in the shortest amount of time. Android libraries will assist developers in creating apps faster by defining numerous components like debugging, UI elements, and more. We'll discuss the top Android libraries to use for app development.
Picasso
Picasso is an open-source and powerful image-downloading and caching library for Android which is developed and maintained by Square. By using a 3rd party library like Picasso we will complete our task in a few lines of code. It allows for hassle-free image loading in your application and that too in one line of code. This library has lots of features like loading images from the web, cropping images, resizing images, and placeholders, and displaying error images. 
Espresso
Google developed the Espresso framework to make the mobile automation testing process easier. It is a part of the Android testing support package and permits you to create automated UI tests. The performance of the Espresso library is simply best with inspecting app functions across real devices and emulators rigidly. 
RxJava2
RxJava2 is one of the top react programming libraries and offers observable sequences for implementing reactive programming successfully. It allows you to create asynchronous, event-based code. RxJava2 works wonders in chaining the asynchronous task and also managing the errors. Using this package style, you can run both versions (RxJava1 and RxJava2) at the same time. 
Retrofit
Retrofit is a popular networking library for making HTTP requests on Android. Android developers can use Retrofit to make a network request and create type-safe REST clients that work amazingly well through mapping APIs within the client interface retrieving time-critical instructions from annotations.
ButterKnife
Butterknife is a low-weight library to inject views into Android components. It is greater efficient than traditional view binding. Boilerplate code is produced by ButterKnife using an annotation-based library for Android. ButterKnife can reduce the use of boilerplate codes and replaces it with auto-injection codes. ButterKnife is a must-have library widely used in android development to improve readability and simplify the code.  
Dagger2
We cannot complete the list without discussing Dagger here. Dagger2 is a fully static, compile-time powerful library for dependency injection in Android. It can be difficult to handle dependency injection while developing larger applications but Dagger will save you as it creates a dependency injection graph in compile-time via annotation processors.
Android libraries include image loading, drawing libraries, networking library, reactive library, dependency injector library, scanning library, view binding, testing library, and debugging library. Implementing these libraries, you can save a lot of time and effort that you spend on developing an Android app from scratch. Which library is the most suitable for you depends upon what requirements you are looking for in your application. You can contact Swayam Infotech and schedule a meeting for a detailed discussion to make out the best of these frameworks. 
Article source: https://article-realm.com/article/Computers/Mobile/44945-Top-Android-Libraries-for-App-Development-in-2023.html
Comments
No comments have been left here yet. Be the first who will do it.
Statistics
Publishing
Articles:
50,849
Categories:
202
Online
Active Users:
24938
Members:
692
Guests:
24246
Bots:
228624
Visits last 24h (live):
2263
Visits last 24h (bots):
5252

Administrator

,

GreenChopper

,

Abhishek Singh

,

Dinesh Kumar

,

Alexander Martin

,

Tim Wood

,

Jignesh Jariwala

,

Panchmukhi Train Ambulance Services

,

Sdreatech Private Limited

,

Kevin Dsouza

,

Anastasios Papathanasiou

,

Wealth Elite

,

mayurikathade

,

ellyse perry

,

yoona kim

,

jitu sah

,

Devesh Guwal

,

Bayareamoldpros

,

VANGUARD INTERIORS

,

jitusah

,

Vania Vrondi

,

matthew paulson

,

Extractohol

,

Kieu Thuy Hang

,

Mbbsinblog

,

john will

,

Mukesh Sharma

,

charles hensen hensen

,

Andy

,

Grow

,

Loans Profit

,

Helen Clark

,

Sarah Ferguson

,

Nueva Cash

,

GR Landscape

,

PLCPlus

,

REDVision Technologies Pvt. Ltd

,

articles reader

,

leah li

,

Flykhalifa

,

Devid Won

,

Raj Sanghvi

,

lowes emily

,

elynaezza

,

Aiza Graves

,

Francis

,

alagu

,

Kiran Beladiya

,

AMpuesto India

,

Vedanta Air Ambulance

,

Joy Andella

,

Niveditha Jain

,

lisa harley

,

informative blog

,

ayaan

,

William Smith

,

Noah Radford

,

Nitesh Prasad

,

Central Biohub

,

Matt Easterlin

,

Peter Perker

,

roofguttercleaningvic

,

ascentbpo

,

ias score

,

Shahid Hasan

,

Donnell Dean

,

iMagnum Healthcare Solutions Inc

,

Coats Group

,

john williams

,

Kamoto AI

,

Peter Kordabadi

,

Adam Rose

,

Vikas Chauhan

,

Bellot Twig

,

Pooja Dhahiya

,

Mark Charlie

,

lucas

,

askaccountings

,

Aircon

,

Hemant Kumar

,

Vince Bucciachio

,

Becky Joseph

,

martin

,

ran viv

,

Louis Howard

,

karandeep singh

,

Emma James

,

Rick Martin

,

faraz pathan

,

Sagar

,

Fly Inate

,

Mark Liu

,

Clarence Godin

,

martech cubejohn

,

Healthcare News

,

miseryclary

,

Maria Brooks

,

Mark Taylor

,

Becky Joseph

,

EZ Aircon Servicing

,

Harley Wilsom

,

Payal Rajput

,

Pramod Kumar

,

Allan Dias

,

Veative Labs

,

Maxiom Law

,

Artoon solutions

,

Quchange trading limited

,

Eliza Dorsey

,

mifitness

,

Nike Tech Suit

,

Aayan Ali

,

Reza Nikfar

,

Scoop Coupons

,

Eric Martin

,

Lahore Escorts

,

meds4gen

,

Tanzeel Obaid

,

meds4 gen1

,

chase.Liu

,

sanya roy

,

Company

,

Jonathan Zhang

,

Deepak Kumar

,

Snushuseu

,

Ganesh Remedies

,

Andrew Wilson

,

Marcel

,

Cetas Healthcare Ltd

,

Helen Ruth

,

Snushus

,

Akshay Sharma

,

Canadian Cash Solutions

,

Integrative Systems

,

Call Girls in Lucknow

,

Ashwini Sharma

,

poojanegi

,

Alex Brown

,

Stephen Mundo

,

xacadox

,

hhcasdads

,

Zbranek & Holt Custom Homes

,

Henery Smith

,

Factory Direct Hot Tub

,

Call Girls in Lucknow

,

matthew brain

,

John Parker

,

apevape

,

CRIF Dun and Bradstreet

,

Sachin Sengar

,

Richard Williams

,

Tuxedo Dental Group

,

james mcgill

,

The Multifamily Mindset

,

Lucy Brudo

,

First Editing

,

kirti mospa

,

Mohammed Yusri

,

Amy Parker

,

Indomed Educare Pvt Ltd

,

Aishley Smith

,

Zivah ElectriVa Private Limited

,

Vtricambi

,

Kalyani Badkas

,

noaman bhat

,

Lawson Sandy

,

Youth Destination

,

srikar

,

Ravelmovement

,

Myhomecargo

,

Softpulse Infotech

,

HCF Creative Force

,

Mohit Singh

,

Tanja Filipovska

,

Fsh furniture

,

Aswain Medha

,

merleshay

,

manasi raviraj bandichode

,

Sarah Addyson

,

Charis Charalampous

,

Tina Das

,

May Sanders

,

Quickway Infosystems

,

Adam Taub

,

Hairxtensions.co.uk

,

Alice Perera

,

Alzbeta Berka

,

Smoothe Hemp

,

Delta 10 Cart

,

Johnson Piter

,

Artoon Solutions

,

devinthapa

,

Vape Star Usa

,

Maria Smith
Articles Archive