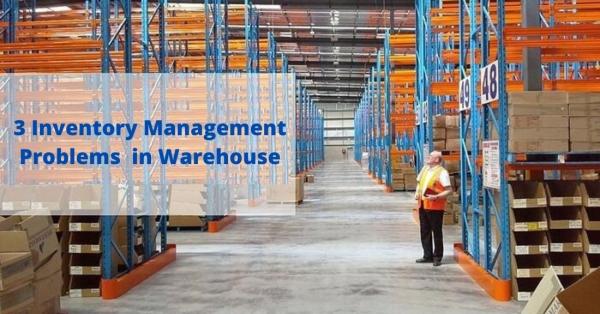 Warehouse management and maintenance is vital for manufacturing business success. The efficient, accurate and steady flow of products in and out from the warehouse defines how well you are managing it. However, to keep everything running smoothly, you need to put in a lot of time and effort. And, for this, you must watch out for the key issues that generally happen in any warehouse and must be solved at any cost for successful inventory management.
Let's take a look on these problems and see how an ERP software could be your savior.
Inefficient Operations: 
A flawless warehouse management requires only one and the most efficient way to get things done from one to another point. It could be a real pain in the neck if you have a high volume of goods, people and raw material moving through your warehouse – the case in point here is manufacturing and production. You need everything run and every person performs as efficiently as possible and that's where a warehouse management app with an ingenious navigation system can come handy.
An ERP solution ensures that everyone is working efficiently and the stock is well-kept and moved in the most efficient way possible. The chances of misplaced items will also be reduced.
Dead Stock:
Excess of tangible assets will not eat up the warehouse capacity, but also impede its functionality. You won't be having enough space to keep the best-selling products and new inventory because your old stock is sitting on the shelves. Dead stock is one of the biggest hurdles in good warehouse management. It will escalate the storage cost besides your sales will not be aligned with your forecasts – it will boil down to the decreased future orders.
An ERP with the best-in-class inventory management module will help you deal with the wasteful excess of products that are not selling. Moreover, with a clear view about warehouse capacity, space consumption and what stock needs to be moved out quickly will help you in strategizing the ways to get rid of the dead stock. You can rebrand the dead stock and use inventory kitting to push it to the sales funnel.
Backorders:
It's the opposite of dead stock, when a buyer's order for an item is temporarily exhausted in the inventory. A product usually gets out of stock when a supplier underestimates the future demand for a product or try to keep the little excess inventory (may be due to limited warehouse capacity). Simply put, it's inventory shortage particularly when there is high demand from the retailers.
Here you need smart warehousing and inventory management techniques to avoid the consistent backorders and stockouts that will cause the supplier to lose a gross sales margin.  Order management database in your ERP software for manufacturing will help you accelerate the backorder process with enhanced sales inventory workflow. It will help increase your business efficiency, improve profit margins and optimal customer satisfaction.
Last but not the least, you may also face the issues of lost inventory in the form of misplaced, stolen or miscalculated items. It should not happen in your warehouse and therefore, you should build a solid company culture based on honesty, besides investing in the best ERP system into your business operations.
Article source: https://article-realm.com/article/Computers/Software/10111-3-Inventory-Management-Problems-Commonly-Found-in-Warehouse.html
Comments
No comments have been left here yet. Be the first who will do it.