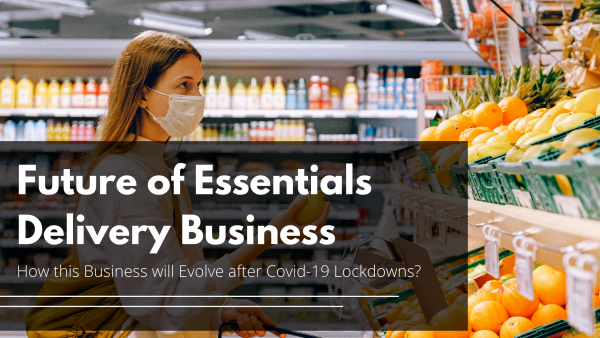 Governments around the world are trying their best to take their economies back on track once again. The lockdowns are ending with the few restrictions on board. And still, in a country like India, the number of positive patients is rising. The economy is steadily coming back on track, but the people are still afraid of going out.
The fear of getting infected is stopping people from going out. People are still are preferring to shop online. Until the vaccination gets invented, there will uncertainty and fear around the people. The Covid-19 has surely affected the lives of common people and will take a while to go away. Here we will discuss how the essentials delivery business will get affected by Covid-19, and How this business will evolve after Covid-19. So Without further a due, let's start the discussion.
Going online will be the best bet
The local grocery or any other essentials shops are failing to manage proper social distancing standards. Even if the social distancing is followed, still there will be the problem of so many unwanted physical contacts. Starting from the lift doors at the building to the exchanging packages with the shop keeper, there will be several physical contacts. 
There won't be any surety about which surface is clear or not. Hence more and more consumers will prefer to shop online. The majority of the population will switch to eCommerce. If you are an owner of the offline essentials store, it's high time to turn towards online. 
BigBasket & Grofers, two of the largest online grocery delivery startups in India have seen the considerable surge in their orders during lockdowns. Due to the vanished supply chain, they have to cancel their thousands of orders. This shows us how the demand for online essentials is increasing.
Fill the gaps in small towns
BigBasket & Groffers are operating in several parts of India. Still, several medium & small towns are yet to cover. They are not that popular in small cities. Local essentials store owners in the small scale towns can convert this gap into an opportunity for themselves. 
By creating an online essentials store, they can attract the local user base to their business. The local businesses have their loyal user base already built up for them. They can divert them to their online platform too. And by delivering the great end-user experience and with effective marketing tactics great results can be achieved too.
It's now or the never situation
Several local smart entrepreneurs are already eyeing on this business segment. Many of them may have already started working on this idea. A few months down the line, many essentials delivery local startups will come into existence. The competition in the local market will also rise. If any business is planning to go online, it is the right time to do it.
Establish your user base in the local market. It will give you the first-mover advantage in your locality. Start delivering a great experience of shopping. Establish a good trustworthy relationship with your local user base. And get the best business benefits out of it.
So, how do I start my essential delivery website?
Well, if you are an owner of a local grocery shop or any other essential goods, you already have inventory to serve your shoppers. All you need is a good website, marketing strategy, and a delivery network to increase your reach. 
Companies such as Softpulse Infotech will deliver essential delivery eCommerce website on the quicker bases to serve your shoppers. They will deliver a perfect cost-friendly essentials website in just 2 to 5 business days to the merchants. The website will be created on the Shopify platform, resulting in greater customization and ease of use for the merchants.
And as far as marketing of the website is concerned, you can do it by transferring your loyal existing customers to your online shop. And by having a look at the current situation of the market, your loyal shoppers will also appreciate the move. And with the satisfying experience of shopping delivered to them, the word of mouth will play a huge role. Also, other ways of marketing such as social media, flyers, ads in local newspapers, collaboration with famous pages, etc, play a huge role.
And to manage your supply chain, you can do a partnership with the local courier and delivery service providers. Or, you can also hire a few individuals to deliver your goods. Hire individuals who are aware of your local geography. Manage these few things and quickly start your essentials delivery business in just a few days.
The final words
During and after the pandemic of Covid-19, the demand for online essential good delivery services will surely see the rise. It's high time for the businesses to move their offline essentials businesses online. And get the best business benefit out of it. The people are afraid of going out. It's time to serve them from the comfort of their homes. Thanks for reading till the end. Remember, if you do not start now, someone else will. So, you better act NOW!!!
Article source: https://article-realm.com/article/Finance/6473-How-the-Essentials-Business-will-Evolve-after-Covid-19-Lockdown.html
Comments
No comments have been left here yet. Be the first who will do it.