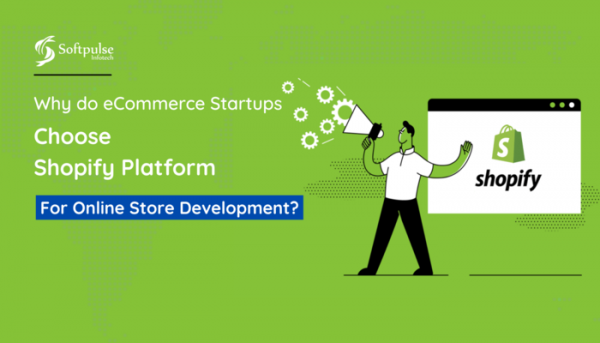 eCommerce websites make it possible for your company to have a large customer base. They provide customers with the ability to conduct business online while using devices they already own. The traditional method of creating eCommerce portals has been replaced by current cart generation software. These web development applications are available in a variety of features and quality. Time savings, development effort reductions, physical server cost reductions, and labor cost reductions are just a few of its advantages. Many businesses favor Shopify over the other e-commerce platforms on the market. It is one of the most widely used eCommerce platforms, with over a million stores worldwide.
When it comes to bringing their business online, startups and small businesses prefer Shopify development. Most businesses prefer Shopify for eCommerce store building, because of its ease of use. Shopify eCommerce development comes with several tools that make selling online easy. The best part is that it is affordable. Shopify development is low-cost since the monthly membership is low-cost.
Shopify is undoubtedly well-known around the world, because of which many eCommerce startups choose the Shopify platform for online store development. Here are a few key factors to backup this:
Easy to set up and use:
Shopify is an eCommerce platform with a user-friendly interface that allows users to make updates and changes as needed. It's a simple platform to set up and use. It is the greatest option for individuals who want a complete solution without having to deal with the technical aspects of developing and running an online store. The platform provides the necessary software and hosting for the website's debut. The admin interface is simple and easy to use, and the user interface is appealing.
Inbuilt tools for marketing:
Shopify has a marketing advantage as a comprehensive platform. Shopify has built-in marketing tools that help startups save money. It lets you add page titles, Meta titles, unique URLs, Meta descriptions, make pages visible and invisible, and redirect pages as needed. It also allows you to personalize the store according to your preferences. Along with these, custom gift cards, discount coupons, store statistics, targeted email marketing, and more marketing options are also available.
Secure & Speedy:
Speed is an important aspect of the success of an eCommerce site because it helps to boost sales. The faster your web pages load, the more users you'll keep.
Another advantage of Shopify is its security.  In terms of security and payment provider integration, Shopify provides the best service. Security is critical for an online business. This is because it handles customers' valuable personal and financial information.  
Mobile Responsiveness:
Because the number of mobile shoppers is growing day by day, mobile responsiveness is critical to an e-commerce store's success. Mobile responsiveness is one of the most important aspects of Shopify eCommerce development. The Shopify themes are mobile responsive, which means they can be used to create stores that are optimized for mobile devices. The store automatically provides a fast mobile experience that does not block any store operations. This is because the majority of online customers use mobile devices.
Visually appealing store:
Shopify comes with a variety of professional templates that allow you to establish one-of-a-kind and visually appealing online stores. It comes with a basic theme, but designers and developers can customize it to create a store with a rich user interface and excellent user experience.
Great customer support:
Online sellers can get dependable, round-the-clock client care by using this e-commerce platform. Shopify professionals are available via email, live chat, or phone 24/7 to answer any questions and ensure that your store runs smoothly at all times.
SEO friendly:
SEO is critical for ensuring that buyers looking for your products can simply find your website. Shopify is also SEO-friendly, with technological features that can help you improve your search engine rankings. It allows you to improve store traffic without putting in a lot of effort. It also has SEO features such as custom title tags and meta tags.
Smooth payment:
Integrating a secure and reliable payment method is a major challenge for online retailers. Buyers should be able to pay using a variety of payment methods through your payment provider. The payment gateway is easy to set up on Shopify for store owners. The payment methods available through Shopify website creation are many. It also includes its own payment gateway and a region-specific payment gateway for a more advanced checkout mechanism.
 Wish to start your online store? Hire Shopify developers:
Shopify is a powerful platform that doesn't require you to integrate a lot of other components. Depending on your products, there are millions of Shopify themes to pick from. With so many great features, Shopify is undoubtedly one of the top options for eCommerce business building. Sellers can either develop new online stores or transfer their existing ones to this platform.
If you are looking to create an engaging online business, expert assistance is required. If you're thinking about opening an online store, it is time to invest in Shopify Development Services. Softpulse Infotech is a Shopify development company that specializes in creating interactive and revenue-generating stores for companies of all sizes. Send us an email to discuss your eCommerce needs. We will be delighted to assist you.
Article source: https://article-realm.com/article/Internet-and-Businesses-Online/Web-Design/15565-8-Reasons-for-Using-Shopify-Platform-for-Online-Store-Development.html
Comments
No comments have been left here yet. Be the first who will do it.