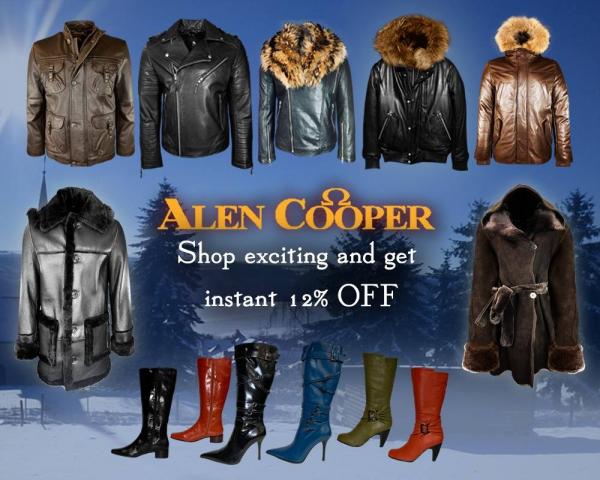 Over the century, fur is rocking the trend and stands as a symbol of class and social status. When it comes to fur coats then most of the men think of the Hollywood stars who appear stunningly with fur coats on the screen. All over the globe, fur is the sign of class, elegance, and social status. But before being the cup of tea of movie stars and celebrity socialites, fur was used for the warmth and protection, people need for outdoor activities during the too cold winter days.
Here the most pleasing fact is that in comparison with the old days, men have started to sport furs much more frequently. Full fur coats can instantly boost the confidence level and add an uncommon feeling of bravado. With the days, fur jackets, hoods, vests, and trims getting more common, fashionable and affordable. It is not that these men's long fur coats are there only for style value and elegance but also they offer undeniable warmth and comfort that is really hard to find in other options.
After hearing the benefits of real mink or rabbit fur outerwear, many men run to the local furriers to avail an exciting coat or jacket. If you too are feeling the same inside then in the below section there are some tips for you which you need to follow before donning a fur garment. If you are planning to jump on this hot trend this winter then this guide will help you to recognize the basic etiquette for the masculine wearing of fur!
Pattern and color
Whether it is a full-length fur coat, hooded jacket or a vest, the color and the pattern are really important for a man to look attractive than ever. It has been noticed that men generally look better in dark furs. So, you can easily go with the mink and rabbit fur outerwear. These products are soft and do not invoke any skin rashes or bumps.
If you are planning to go out of the box then you can try the Coyote pattern. It is unique- lighter and flashier and requires courage and style to pull off! If you are going for the lighter complexion or more contrasting pattern then you need to stay more careful to choose the right outfit and setting.
Length
According to the fur expert, Rosendrof Evans, the main difference between men's and women's fur coat is the length. According to the fashion rule, men's coats are generally longer than the women's (ends below the thighs or to the knees). Apart from this, there are also other options for men such as the bomber or the mid-length coats.
There are fur trimmed options too if you are not finding the atmosphere right to carry the full fur coats. And the most popular option is a fur-trimmed hood! If you want to craft your own style statement then there are fur hats, vests, scarves, and other related clothing to accompany you.
Real or fake!
People find themselves on great dilemma when it comes to picking the best one from fur or faux outerwear! Real fur outerwear is expensive and faux one is not! But when it comes to healthy option then investing in the real fur products is the right decision!
Best Part
The best part of wearing a fur coat is that it boosts the confidence level instantly! The color, length, and pattern need to be according your body shape and choice. There are so many cheap fur coats for men so that you can carry on your style experiment!
Article source: https://article-realm.com/article/Environment/Agriculture/1444-A-useful-guide-to-wearing-fur-for-Modern-men.html
Comments
No comments have been left here yet. Be the first who will do it.
Statistics
Publishing
Articles:
50,405
Categories:
202
Online
Active Users:
13890
Members:
454
Guests:
13436
Bots:
138152
Visits last 24h (live):
694
Visits last 24h (bots):
9619

Administrator

,

leah li

,

ellyse perry

,

Flykhalifa

,

Devesh Guwal

,

Devid Won

,

Raj Sanghvi

,

lowes emily

,

elynaezza

,

Nike Tech Suit

,

Dinesh Kumar

,

Aayan Ali

,

Reza Nikfar

,

Vedanta Air Ambulance

,

Panchmukhi Train Ambulance Services

,

Extractohol

,

Andy

,

Scoop Coupons

,

Eric Martin

,

Lahore Escorts

,

Nitesh Prasad

,

meds4gen

,

faraz pathan

,

Tanzeel Obaid

,

Tim Wood

,

meds4 gen1

,

yoona kim

,

Matt Easterlin

,

chase.Liu

,

Pooja Dhahiya

,

sanya roy

,

Company

,

Jonathan Zhang

,

Deepak Kumar

,

Aircon

,

Snushuseu

,

Kiran Beladiya

,

Ganesh Remedies

,

matthew paulson

,

Healthcare News

,

Andrew Wilson

,

ran viv

,

Marcel

,

Cetas Healthcare Ltd

,

Helen Ruth

,

Snushus

,

Peter Perker

,

Abhishek Singh

,

Donnell Dean

,

Akshay Sharma

,

Central Biohub

,

Canadian Cash Solutions

,

Integrative Systems

,

Call Girls in Lucknow

,

Kieu Thuy Hang

,

Vikas Chauhan

,

AMpuesto India

,

Sdreatech Private Limited

,

Ashwini Sharma

,

poojanegi

,

Fly Inate

,

mayurikathade

,

Alex Brown

,

Stephen Mundo

,

xacadox

,

hhcasdads

,

Zbranek & Holt Custom Homes

,

Henery Smith

,

Factory Direct Hot Tub

,

martin

,

Call Girls in Lucknow

,

Grow

,

matthew brain

,

John Parker

,

apevape

,

Alexander Martin

,

CRIF Dun and Bradstreet

,

Nueva Cash

,

Sarah Ferguson

,

Sachin Sengar

,

Helen Clark

,

Loans Profit

,

Richard Williams

,

Jignesh Jariwala

,

Tuxedo Dental Group

,

james mcgill

,

Wealth Elite

,

The Multifamily Mindset

,

Lucy Brudo

,

First Editing

,

kirti mospa

,

Mohammed Yusri

,

Amy Parker

,

Indomed Educare Pvt Ltd

,

Aishley Smith

,

Zivah ElectriVa Private Limited

,

lucas

,

Vtricambi

,

martech cubejohn

,

Kalyani Badkas

,

informative blog

,

noaman bhat

,

Lawson Sandy

,

Youth Destination

,

srikar

,

Ravelmovement

,

Myhomecargo

,

Softpulse Infotech

,

HCF Creative Force

,

GreenChopper

,

Mohit Singh

,

Tanja Filipovska

,

Fsh furniture

,

Aswain Medha

,

merleshay

,

manasi raviraj bandichode

,

Sarah Addyson

,

Charis Charalampous

,

Tina Das

,

Eliza Dorsey

,

May Sanders

,

Quickway Infosystems

,

Adam Taub

,

Hairxtensions.co.uk

,

REDVision Technologies Pvt. Ltd

,

Alice Perera

,

Alzbeta Berka

,

Smoothe Hemp

,

Delta 10 Cart

,

Johnson Piter

,

Noah Radford

,

Artoon Solutions

,

devinthapa

,

Vape Star Usa

,

Maria Smith
Articles Archive