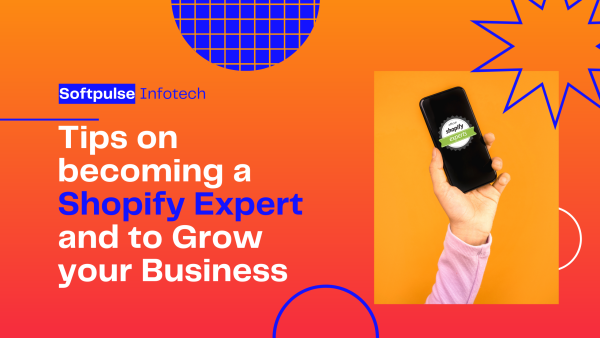 To become a Shopify expert and have your experience in this platform approved, you must meet a list of conditions and characteristics in your profile. Providing high-quality services is one of the most significant aspects of those requirements. So, how do you go about becoming a Shopify Expert? Even if you are currently successful, you will face numerous challenges in maintaining and growing your business as well as expanding your business. It's been a long road of growth and improvement. However, if you stay on the right track and persevere, the venture may be less difficult.
In this article, we have shared helpful suggestions on how to become certified as a Shopify Expert to develop and grow your business.
About Shopify Experts?
Shopify Experts are highly trained and trusted Shopify community members who actively assist Shopify merchants in growing their online stores by delivering extraordinary and top-notch services. A Shopify Expert can specialize in a multitude of sectors, including marketing and sales, branding, store setup and development, content, and many others.
They could be Shopify web designers, theme and app developers, business consultants, eCommerce agencies, and Shopify Freelance experts.  They can be found on freelance marketplaces, such as the Shopify Experts Marketplace, or their websites, social media, or freelance marketplaces.
How to become a Shopify Expert?
Even if you already have special subject expertise and some degree of applicable abilities, becoming a Shopify Expert is difficult. To become a Shopify Expert, you must constantly improve your business profile and your expertise practices. Here are some tips you can follow:
1. Become more knowledgeable:
It is important to learn new things daily. Businesses change all the time, especially in the eCommerce market. If you don't want to fall behind, you must constantly update and improve your talents. You can study through Shopify Academy, where you may enrol in a variety of Shopify courses. Hundreds of courses, tutorials, and webinars about eCommerce, marketing, and store development are available in the Shopify Compass. You can also earn certification by completing and passing exams on your Shopify Partner dashboard.
You can also participate in the conversation by joining large Shopify-related Facebook groups like Shopify Partners or Shopify Entrepreneurs, eCommerce groups like eCommerce Elite Mastermind, or simply joining the Shopify Community. This is also a fantastic way to connect with new people and expand your business.
2. Refine and improve your abilities:
To be an expert, you must be exceptionally skilled at what you do. In this situation, you must have solid and essential Shopify, eCommerce, and your unique field abilities and understanding. For example, if you're a Shopify UX designer, you'll need to understand the most basic features that an online store should have, as well as how to put together navigation bars, collections, or goods to produce a positive user experience.
3. Promote your brand:
If you don't engage in any branding or marketing activity, merchants will be unaware of your brand and offerings. That's why it's critical to build your brand to have a strong profile that may help you gain the trust of clients, partners, and even Shopify. You can achieve this by focusing on a few social media platforms to expand your business. Social media is like a vast ocean, with enormous potential for reaching a larger audience on a worldwide scale.
You may also achieve this by leveraging your content to educate businesses. This will assist you in establishing your brand as a reliable source of important information. You can also use client testimonials.  These client testimonials are an excellent example of social proof. They're a true testament to your high-quality service and knowledge, which is a significant boost in your portfolio.
4. Increase the number of services available:
Merchants will have more options and reasons to stick with you if you offer more services and products. You can also rely on your business for assistance by offering a variety of services. Showing individuals that you can do more will help you expand your business and skills. Diversifying your products and services can help you reach a wider range of clients while also allowing you to develop new skills and knowledge. This increases your chances of being accepted by Shopify with your portfolio because you can demonstrate expertise in more areas and so cover a wider range of requests.
Wrap up:
It's never been easy to become an expert in your chosen field. It's a method of collecting knowledge, experience, and abilities while remaining focused. There will be setbacks, but if you can demonstrate to Shopify that your knowledge can help individuals expand their businesses healthily and sustainably, they will be willing to help you expand yours.
Article source: https://article-realm.com/article/Home-Family/Pets/17637-How-To-Succeed-As-Shopify-Expert-Tips-and-Tricks.html
Comments
No comments have been left here yet. Be the first who will do it.
Statistics
Publishing
Articles:
50,573
Categories:
202
Online
Active Users:
17101
Members:
542
Guests:
16559
Bots:
172394
Visits last 24h (live):
1496
Visits last 24h (bots):
14224

Administrator

,

leah li

,

ellyse perry

,

Flykhalifa

,

Devesh Guwal

,

Devid Won

,

Raj Sanghvi

,

lowes emily

,

elynaezza

,

lucas

,

Panchmukhi Train Ambulance Services

,

William Smith

,

Extractohol

,

askaccountings

,

Aircon

,

Hemant Kumar

,

martin

,

Joy Andella

,

ran viv

,

Andy

,

Dinesh Kumar

,

Louis Howard

,

Aiza Graves

,

karandeep singh

,

Emma James

,

Pooja Dhahiya

,

Bellot Twig

,

Rick Martin

,

faraz pathan

,

Sagar

,

Abhishek Singh

,

Vedanta Air Ambulance

,

Tim Wood

,

Fly Inate

,

Alexander Martin

,

Mark Liu

,

Clarence Godin

,

martech cubejohn

,

Kiran Beladiya

,

Healthcare News

,

Becky Joseph

,

AMpuesto India

,

miseryclary

,

Grow

,

Maria Brooks

,

Mark Taylor

,

Becky Joseph

,

EZ Aircon Servicing

,

Matt Easterlin

,

Harley Wilsom

,

yoona kim

,

Payal Rajput

,

Central Biohub

,

Mbbsinblog

,

Pramod Kumar

,

Allan Dias

,

Veative Labs

,

Maxiom Law

,

Artoon solutions

,

Nueva Cash

,

Loans Profit

,

Helen Clark

,

Quchange trading limited

,

Sarah Ferguson

,

Eliza Dorsey

,

mifitness

,

Nitesh Prasad

,

Nike Tech Suit

,

Aayan Ali

,

Reza Nikfar

,

Scoop Coupons

,

Eric Martin

,

Lahore Escorts

,

meds4gen

,

Tanzeel Obaid

,

meds4 gen1

,

chase.Liu

,

sanya roy

,

Company

,

Jonathan Zhang

,

Deepak Kumar

,

Snushuseu

,

Ganesh Remedies

,

matthew paulson

,

Andrew Wilson

,

Marcel

,

Cetas Healthcare Ltd

,

Helen Ruth

,

Snushus

,

Peter Perker

,

Donnell Dean

,

Akshay Sharma

,

Canadian Cash Solutions

,

Integrative Systems

,

Call Girls in Lucknow

,

Kieu Thuy Hang

,

Vikas Chauhan

,

Sdreatech Private Limited

,

Ashwini Sharma

,

poojanegi

,

mayurikathade

,

Alex Brown

,

Stephen Mundo

,

xacadox

,

hhcasdads

,

Zbranek & Holt Custom Homes

,

Henery Smith

,

Factory Direct Hot Tub

,

Call Girls in Lucknow

,

matthew brain

,

John Parker

,

apevape

,

CRIF Dun and Bradstreet

,

Sachin Sengar

,

Richard Williams

,

Jignesh Jariwala

,

Tuxedo Dental Group

,

james mcgill

,

Wealth Elite

,

The Multifamily Mindset

,

Lucy Brudo

,

First Editing

,

kirti mospa

,

Mohammed Yusri

,

Amy Parker

,

Indomed Educare Pvt Ltd

,

Aishley Smith

,

Zivah ElectriVa Private Limited

,

Vtricambi

,

Kalyani Badkas

,

informative blog

,

noaman bhat

,

Lawson Sandy

,

Youth Destination

,

srikar

,

Ravelmovement

,

Myhomecargo

,

Softpulse Infotech

,

HCF Creative Force

,

GreenChopper

,

Mohit Singh

,

Tanja Filipovska

,

Fsh furniture

,

Aswain Medha

,

merleshay

,

manasi raviraj bandichode

,

Sarah Addyson

,

Charis Charalampous

,

Tina Das

,

May Sanders

,

Quickway Infosystems

,

Adam Taub

,

Hairxtensions.co.uk

,

REDVision Technologies Pvt. Ltd

,

Alice Perera

,

Alzbeta Berka

,

Smoothe Hemp

,

Delta 10 Cart

,

Johnson Piter

,

Noah Radford

,

Artoon Solutions

,

devinthapa

,

Vape Star Usa

,

Maria Smith
Articles Archive