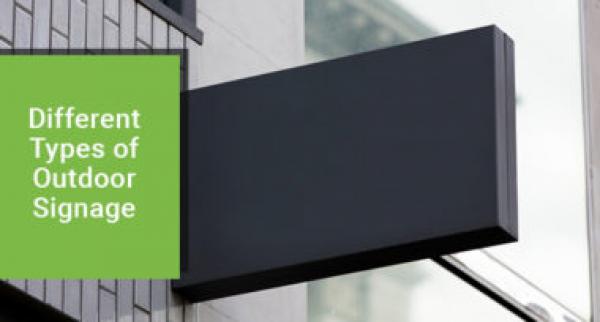 Outdoor signage is one of the most effective ways to attract people to your business or event. With today's technology, it's possible to create bold, colourful pieces that showcase your brand. Whether you're advertising a new product or highlighting your grand opening event, a high-quality sign will certainly turn heads. And when it comes to shape, size, colour, and texture, the possibilities are endless.
Digital signage solutions allow companies to expand their target reach, thus, increasing profitability. LED technology and interactive storefront experiences are changing the way businesses engage with customers. If you like the look of digital signage, it's entirely possible to incorporate this feature into a number of different styles. From A-frames to reader boards, let's explore the various options available today.
A-Frames
This classic style is often found outside restaurants, hair salons, and many other neighbourhood establishments. The A-frame can be spotted easily by pedestrians, and is a good way to direct potential customers. Use this type of signage to grow your business by highlighting your services or daily specials. Highly customizable and lightweight, A-frames are one of the least expensive options on the market.
Backlit Signs
This option is a little more costly, but definitely worth the investment. A backlit sign can advertise your business 24/7, giving customers something to look at even when you're closed for the day. Use digital technology to incorporate custom logos and colourful graphics that are relevant to your company. And remember, location is everything when working with this type of style. You don't want your backlit masterpiece to get drowned out by all the other signs around it. Place your signage in an eye-catching area, and choose colours that stand out from the competition.
Channel Letters
Channel letters offer a crisp, clean look that are perfect for those who want to incorporate 3D texture. These letters have aluminum sides, and backs made of either aluminium or acrylic. The faces are made of acrylic too. Although they look good on their own, channel letters really come to life with LED lighting. They can be fastened directly to your building or onto a mounting board instead.
Electronic Signs
Electronic signage is one of the best ways to make your business or event stand out. These high-tech boards are programmable, so you can convey multiple messages without having to create a different piece each time. Electronic signage is best used as a complementary feature to a traditional sign. In colder Canadian climates, the lifespan of these products is not long. So be sure to invest in a durable, high-quality model.
Video Walls
Unlike traditional storefront signage, video walls are more engaging and exciting to look at. These customizable boards allow you to deploy a mix of moving video, artistic imagery, and even music to impress an audience. Some video walls have touchscreen capabilities, allowing your audience to interact with the content. If you're interested in this style, work with a reputable AV equipment rental firm like Big Digital. An experienced team can not only help you install and maintain your video wall, but customize all its contents too.
Pylon Signs
Guaranteed to reach customers from a distance, pylon signs can advertise your business or event before patrons reach the building. Because pylons are quite large, they are generally more expensive than other styles. But they provide an opportunity to convey multiple messages, due to their four-sided facade. Just be sure to research your local bylaws to check that pylon signs are allowed.
Reader Boards
These handy contraptions are fully customizable and fun to work with. Reader boards are often used by schools to notify parents of important dates, or by churches to announce upcoming sermon topics. The only downside of a reader board is that it may be difficult during the winter months to rearrange its letters. If this seems cumbersome, consider investing in a digital sign instead.
Window Lettering and Graphics
This type of signage is a nice complement to other signs. Window lettering and graphics are a fabulous opportunity to add pictures and logos that may not have fit elsewhere. If you go this route, remember that window signage must be installed before temperatures reach 5 degrees Celsius. And be sure to place them strategically, as window signage can block out the sun.
A comprehensive sign campaign is one of the most important pieces of the marketing puzzle.No matter what type of style you choose, be sure to work with a firm that provides custom signage solutions—especially if you're working with digital technology. Effective signage is key to luring customers away from the competition, and holding their attention just long enough to convey your message.
For more information about signage solutions, call Big Digital at 1-888-339-1815 or contact us here.
Article source: https://article-realm.com/article/Business/Careers/1167-DIFFERENT-TYPES-OF-OUTDOOR-SIGNAGE.html
Comments
No comments have been left here yet. Be the first who will do it.
Statistics
Publishing
Articles:
50,405
Categories:
202
Online
Active Users:
13893
Members:
454
Guests:
13439
Bots:
138356
Visits last 24h (live):
690
Visits last 24h (bots):
9548

Administrator

,

leah li

,

ellyse perry

,

Flykhalifa

,

Devesh Guwal

,

Devid Won

,

Raj Sanghvi

,

lowes emily

,

elynaezza

,

Nike Tech Suit

,

Dinesh Kumar

,

Aayan Ali

,

Reza Nikfar

,

Vedanta Air Ambulance

,

Panchmukhi Train Ambulance Services

,

Extractohol

,

Andy

,

Scoop Coupons

,

Eric Martin

,

Lahore Escorts

,

Nitesh Prasad

,

meds4gen

,

faraz pathan

,

Tanzeel Obaid

,

Tim Wood

,

meds4 gen1

,

yoona kim

,

Matt Easterlin

,

chase.Liu

,

Pooja Dhahiya

,

sanya roy

,

Company

,

Jonathan Zhang

,

Deepak Kumar

,

Aircon

,

Snushuseu

,

Kiran Beladiya

,

Ganesh Remedies

,

matthew paulson

,

Healthcare News

,

Andrew Wilson

,

ran viv

,

Marcel

,

Cetas Healthcare Ltd

,

Helen Ruth

,

Snushus

,

Peter Perker

,

Abhishek Singh

,

Donnell Dean

,

Akshay Sharma

,

Central Biohub

,

Canadian Cash Solutions

,

Integrative Systems

,

Call Girls in Lucknow

,

Kieu Thuy Hang

,

Vikas Chauhan

,

AMpuesto India

,

Sdreatech Private Limited

,

Ashwini Sharma

,

poojanegi

,

Fly Inate

,

mayurikathade

,

Alex Brown

,

Stephen Mundo

,

xacadox

,

hhcasdads

,

Zbranek & Holt Custom Homes

,

Henery Smith

,

Factory Direct Hot Tub

,

martin

,

Call Girls in Lucknow

,

Grow

,

matthew brain

,

John Parker

,

apevape

,

Alexander Martin

,

CRIF Dun and Bradstreet

,

Nueva Cash

,

Sarah Ferguson

,

Sachin Sengar

,

Helen Clark

,

Loans Profit

,

Richard Williams

,

Jignesh Jariwala

,

Tuxedo Dental Group

,

james mcgill

,

Wealth Elite

,

The Multifamily Mindset

,

Lucy Brudo

,

First Editing

,

kirti mospa

,

Mohammed Yusri

,

Amy Parker

,

Indomed Educare Pvt Ltd

,

Aishley Smith

,

Zivah ElectriVa Private Limited

,

lucas

,

Vtricambi

,

martech cubejohn

,

Kalyani Badkas

,

informative blog

,

noaman bhat

,

Lawson Sandy

,

Youth Destination

,

srikar

,

Ravelmovement

,

Myhomecargo

,

Softpulse Infotech

,

HCF Creative Force

,

GreenChopper

,

Mohit Singh

,

Tanja Filipovska

,

Fsh furniture

,

Aswain Medha

,

merleshay

,

manasi raviraj bandichode

,

Sarah Addyson

,

Charis Charalampous

,

Tina Das

,

Eliza Dorsey

,

May Sanders

,

Quickway Infosystems

,

Adam Taub

,

Hairxtensions.co.uk

,

REDVision Technologies Pvt. Ltd

,

Alice Perera

,

Alzbeta Berka

,

Smoothe Hemp

,

Delta 10 Cart

,

Johnson Piter

,

Noah Radford

,

Artoon Solutions

,

devinthapa

,

Vape Star Usa

,

Maria Smith
Articles Archive