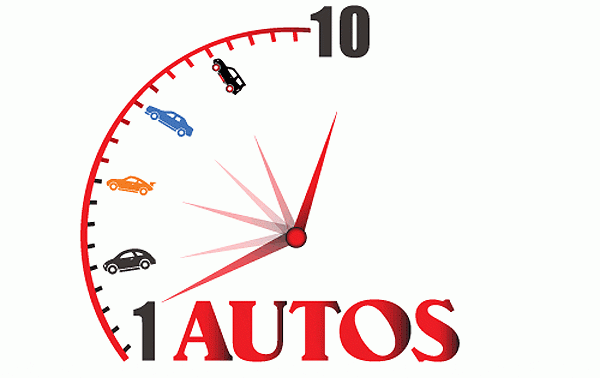 As the flames engulfed the green Toyota outside the Clark County Fire Academy on Tropicana Avenue, the glass in the windshield cracked. An explosive popping sound ensued.
"The first air bag,"explained Steve Moore, an analyst for Fire Cause Analysis. "I give this car about six minutes."
On Friday, Moore was part of a one-day training seminar, sponsored by Western States Auto Theft Investigators, focused on educating investigators about auto arson and detecting insurance fraud.
His organization joined forces with the Clark County Fire Department, insurance agencies and law enforcement to show how to recognize fire patterns and understand how a fire can react in order to detect arson.
"We're simulating an intentionally set fire by someone who wants to get rid of their car," he said. "Evidence is left, everything doesn't just burn away. We work on recognizing the point of origin."
U.S. fire departments responded to an estimated average of 229,500 vehicle fires per year from 2007 to 2011, according to the National Fire Protection Association.
Those fires caused an average of $1.4 billion in direct property damage a year.
Michael Geeser, a member of the Nevada Insurance Council, said the last time the class took place was a decade ago, when the country was mired in the recession and Nevada was leading in insurance fraud.
"When the unemployment rate is really high, it all goes hand in hand," Geeser said. "We call it 'owner give-ups,' where people light their own car on fire to try to get one over on insurance companies."
Part of the seminar included investigators looking at already-burned cars and determining where that fire started and why.
"We were able to look for tell-tale signs if a crime was committed," Geeser said.
Assistant Fire Chief Dan Heenan's decades of experience has taken him to investigate the 9/11 terrorist attack to fires at casinos on the Strip.
About 60 percent of fires are accidents, 20 are arson, and 20 are undetermined, he said.
Heenan emphasized the importance of ongoing training and understanding thermal effects of fire on the ever-changing technology of vehicles.
"Many people haven't seen the vehicle actually burning, they only see post-incident," he said. "By seeing live burns, it makes us better investigators."
Article source: https://article-realm.com/article/Internet-Business/SEO/40-Las-Vegas-seminar-shows-how-to-spot-insurance-fraud-auto-arson.html
Comments
No comments have been left here yet. Be the first who will do it.
Statistics
Publishing
Articles:
50,573
Categories:
202
Online
Active Users:
16026
Members:
511
Guests:
15515
Bots:
162815
Visits last 24h (live):
1355
Visits last 24h (bots):
14998

Administrator

,

leah li

,

ellyse perry

,

Flykhalifa

,

Devesh Guwal

,

Devid Won

,

Raj Sanghvi

,

lowes emily

,

elynaezza

,

lucas

,

Panchmukhi Train Ambulance Services

,

William Smith

,

Extractohol

,

askaccountings

,

Aircon

,

Hemant Kumar

,

Kiran Beladiya

,

Healthcare News

,

Becky Joseph

,

AMpuesto India

,

miseryclary

,

Grow

,

Maria Brooks

,

Mark Taylor

,

Becky Joseph

,

Abhishek Singh

,

EZ Aircon Servicing

,

faraz pathan

,

Vedanta Air Ambulance

,

Matt Easterlin

,

Harley Wilsom

,

yoona kim

,

Payal Rajput

,

Central Biohub

,

Mbbsinblog

,

Pooja Dhahiya

,

Pramod Kumar

,

Allan Dias

,

Veative Labs

,

Maxiom Law

,

Tim Wood

,

Artoon solutions

,

Nueva Cash

,

Loans Profit

,

Helen Clark

,

Quchange trading limited

,

Sarah Ferguson

,

Eliza Dorsey

,

mifitness

,

Andy

,

Nitesh Prasad

,

Nike Tech Suit

,

Dinesh Kumar

,

Aayan Ali

,

Reza Nikfar

,

Scoop Coupons

,

Eric Martin

,

Lahore Escorts

,

meds4gen

,

Tanzeel Obaid

,

meds4 gen1

,

chase.Liu

,

sanya roy

,

Company

,

Jonathan Zhang

,

Deepak Kumar

,

Snushuseu

,

Ganesh Remedies

,

matthew paulson

,

Andrew Wilson

,

ran viv

,

Marcel

,

Cetas Healthcare Ltd

,

Helen Ruth

,

Snushus

,

Peter Perker

,

Donnell Dean

,

Akshay Sharma

,

Canadian Cash Solutions

,

Integrative Systems

,

Call Girls in Lucknow

,

Kieu Thuy Hang

,

Vikas Chauhan

,

Sdreatech Private Limited

,

Ashwini Sharma

,

poojanegi

,

Fly Inate

,

mayurikathade

,

Alex Brown

,

Stephen Mundo

,

xacadox

,

hhcasdads

,

Zbranek & Holt Custom Homes

,

Henery Smith

,

Factory Direct Hot Tub

,

martin

,

Call Girls in Lucknow

,

matthew brain

,

John Parker

,

apevape

,

Alexander Martin

,

CRIF Dun and Bradstreet

,

Sachin Sengar

,

Richard Williams

,

Jignesh Jariwala

,

Tuxedo Dental Group

,

james mcgill

,

Wealth Elite

,

The Multifamily Mindset

,

Lucy Brudo

,

First Editing

,

kirti mospa

,

Mohammed Yusri

,

Amy Parker

,

Indomed Educare Pvt Ltd

,

Aishley Smith

,

Zivah ElectriVa Private Limited

,

Vtricambi

,

martech cubejohn

,

Kalyani Badkas

,

informative blog

,

noaman bhat

,

Lawson Sandy

,

Youth Destination

,

srikar

,

Ravelmovement

,

Myhomecargo

,

Softpulse Infotech

,

HCF Creative Force

,

GreenChopper

,

Mohit Singh

,

Tanja Filipovska

,

Fsh furniture

,

Aswain Medha

,

merleshay

,

manasi raviraj bandichode

,

Sarah Addyson

,

Charis Charalampous

,

Tina Das

,

May Sanders

,

Quickway Infosystems

,

Adam Taub

,

Hairxtensions.co.uk

,

REDVision Technologies Pvt. Ltd

,

Alice Perera

,

Alzbeta Berka

,

Smoothe Hemp

,

Delta 10 Cart

,

Johnson Piter

,

Noah Radford

,

Artoon Solutions

,

devinthapa

,

Vape Star Usa

,

Maria Smith
Articles Archive